Official Baku issued statement on conclusion of meeting with representatives of Armenian-origin residents of Garabagh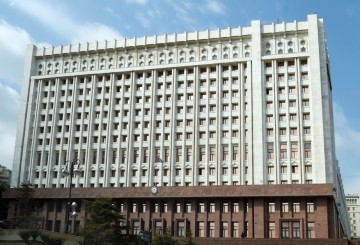 On September 21, at the invitation of the Presidential Administration of the President of the Republic of Azerbaijan, a meeting with representatives of the Armenian residents of the Garabagh region of Azerbaijan was held in the city of Yevlakh, SİA reports.
The central authorities of Azerbaijan are represented by Ramin Mammadov, who was appointed as the person responsible for contacts with Armenian residents living in the Garabagh region of the Republic of Azerbaijan, Bashir Hajiyev, Deputy Special Representative of the President of the Republic of Azerbaijan in the liberated territories of the Garabagh Economic Region (except Shusha district), and Ilkin Sultanov, an employee of the Special Representative office. Armenian residents of Garabagh are represented by Sergey Martirosyan and David Melkumyan. A representative of the Russian peacekeeping contingent is attending the meeting as a participant.
The head of the Russian side of the Russian-Turkish Joint Monitoring Center, rear-admiral Oleg Semyonov attended the meeting as a participant.
At the meeting, held in a constructive and positive environment, discussions were held on the issues of reintegration of the Armenian population of Garabagh, and the restoration of infrastructure based on the Constitution and laws of the Republic of Azerbaijan.
Reintegration plans were presented by Ramin Mammadov.
Also, the importance of quick implementation of the issues reflected in the September 20 statement on the suspension of anti-terrorist measures of the Ministry of Defense of the Republic of Azerbaijan was stressed.
The representatives of Armenian origin residents living in Azerbaijan's Garabagh said that fuel is especially needed in the context of discussing social and humanitarian issues. At the same time, they asked for humanitarian aid in the form of food products.
Their request was received positively as a result of the meeting. Fuel and humanitarian support are planned to be supplied soon, in particular, the heating systems of kindergartens and schools, ambulance, and fire fighting services are planned to be quickly supplied.
The agreement was reached on holding the next meeting soon.
Bütün xəbərlər Facebook səhifəmizdə