Violence hits Paris in day of protests over Macron's pension changes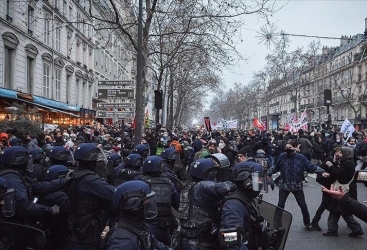 Police fired tear gas and fought with violent black-clad anarchists in Paris on Thursday as hundreds of thousands of mainly peaceful protesters marched across France against President Emmanuel Macron's plan to raise the pension age, SİA reports citing Reuters.
In a ninth day of nationwide protests, train and air travel was disrupted while teachers were among many professions to walk off the job, just days after the government pushed through legislation to raise the retirement age by two years to 64.
Demonstrations in central Paris were generally peaceful, but smaller groups of "Black Bloc" anarchists smashed shop windows, demolished street furniture and ransacked a McDonalds restaurant. Clashes ensued as riot police moved in and drove back the anarchists with tear gas and stun grenades.
Interior Minister Gerald Darmanin said 123 police officers had been injured and 80 people arrested across the country.
Bütün xəbərlər Facebook səhifəmizdə