Turkish President: "Azerbaijan's joy is our joy, freedom is our freedom, and sorrow is our sorrow"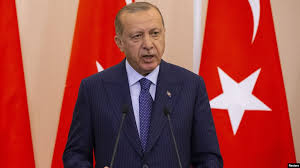 "Let the whole world know that we stand by Azerbaijan, and will stand by after now", said Turkish President Recep Tayyip Erdogan at a special session of the Milli Majlis being held today, APA reports.
The Turkish president noted that If Ahmad Javad has fought in the Ottoman army with the Azerbaijani youth, our Azerbaijani brothers martyred in the Chanakkale, heroes of the Nuru Pasha reached to Azerbaijan's help, we will also be one and equal today and in future: "Azerbaijan's brightness is our brightness, joy is our joy, liberty is our liberty, sorrow is our sorrow. Armenians have killed more than 12 thousand Turks when our valuable brothers Nuru Pasha came to the Caucasus.
The revolt has occurred that will be written to the black pages of history. Those who say something about the Turkish people should first look at Azerbaijan. Even not 100 years earlier, the things happened 30 years ago in Khojaly, Karabakh. But they have eyes but do not see and do not hear. Their heart is already rusted. Let them come now and see Fuzuli. Let them see that how the right and left of these places were burned and destroyed. Yesterday, we have seen the situation here throughout the road".
Bütün xəbərlər Facebook səhifəmizdə
loading...