Armenia kills Azerbaijani civilians -
US media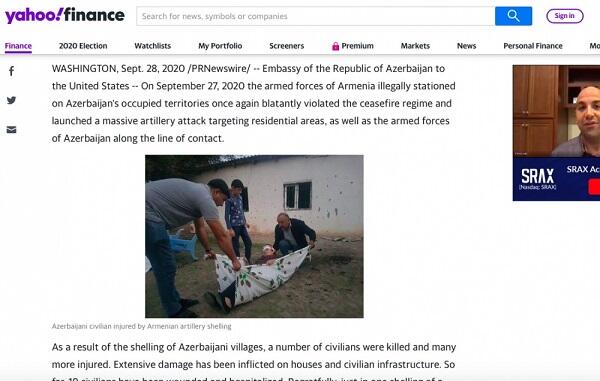 Various US media outlets have published articles about Armenia's next aggression against Azerbaijan.
SİA reports citing the Azerbaijani Embassy in the United States.
According to the article prepared by the embassy, ​​on September 27, the Armenian armed forces, illegally located in the occupied territories of Azerbaijan, once again violated the ceasefire and opened fire on civilians, as well as the Azerbaijani Army along the line of contact.
As a result of the bombing Azerbaijani villages, a number of civilians were killed and many were injured. Habitats and civilian infrastructure were severely damaged. So far, 19 civilians have been injured and hospitalized. As a result of the shelling of only one house in the Naftalan region of Azerbaijan, all members of a family, including children, were killed by Armenian forces.
The latest provocations by Armenia took place on July 12-14 in the direction of the Tovuz region along the international border against Azerbaijan and are a continuation of the attacks on the Azerbaijani side, which lost a major general and a 76-year-old civilian.
Speaking at the 75th session of the UN General Assembly, President of Azerbaijan Ilham Aliyev warned the international community that Armenia is preparing for war. The intensification of mass arms shipments from Russia to Armenia in recent months was an indication of open war preparations. At the same time, statements by Armenian Prime Minister Pashkina and Defense Minister Tonoyan, who openly rejected the current peace process and called for more occupation, called for war, dealt a serious blow to the negotiation process co-chaired by France, Russia and the United States. In this regard, President Ilham Aliyev's warning to the UN about Armenia's continued military provocations was confirmed by Armenia's recent attack on civilian Azerbaijanis.
It is important to understand that the fighting is taking place in the international sovereign territories of Azerbaijan, occupied by Armenia, in violation of relevant UN Security Council resolutions. As noted by President Ilham Aliyev, unlike Armenia, which attacked along the border in July, Azerbaijan has no military goals in the territory of the Republic of Armenia. Azerbaijan has always supported detailed and results-oriented talks for a prosperous future for the two countries.
We call on the world community to explain to Armenia that the illegal occupation of Azerbaijani territories cannot be continued and is unacceptable.
We hope that lasting peace will prevail in our region.
Bütün xəbərlər Facebook səhifəmizdə
loading...