Issue of 8 Azerbaijani villages under Armenian occupation raised in UN Security Council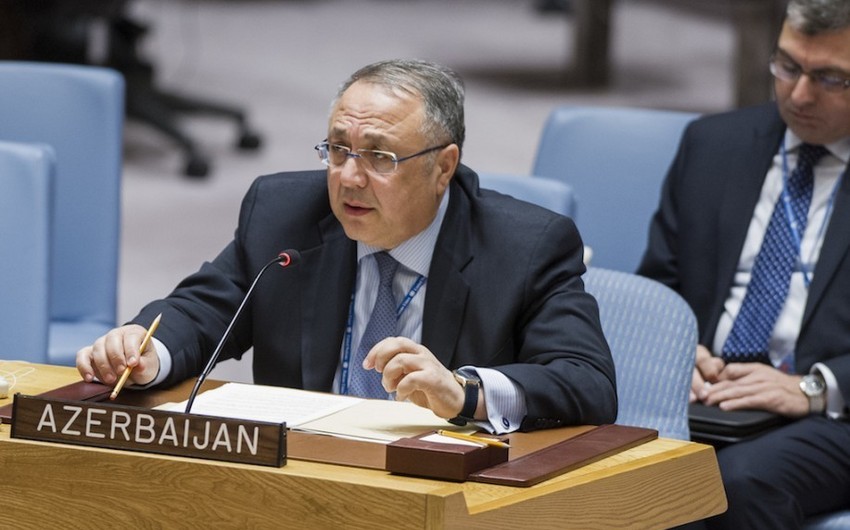 Armenia's refusal to completely withdraw its armed forces and illegal armed formations from the territory of Azerbaijan and return eight occupied Azerbaijani border villages, as well as ongoing landmine terror and other illegal activities, references to settlements in Azerbaijan using outdated or fictitious toponyms, a large-scale smear campaign and disinformation, as well as incitement and propaganda of racial hatred by ethno-nationalist groups operating in the territory of Armenia are in no way compatible with the UN Charter, international law, human rights and the peace agenda, Permanent Representative of Azerbaijan to the UN Yashar Aliyev said at the debate in the UN Security Council, SİA informs.
He noted that Armenia had refused to provide information about thousands of missing Azerbaijanis and to investigate the numerous atrocities committed by its armed forces during the conflict.
"Only in 2022, Armenia handed over 67 bags with mixed remains of 106 people to Azerbaijan. The fact that a country that calls itself the center of civilization and an ardent defender of human rights, in violation of all laws of morality and international humanitarian law, kept these remains for thirty years, causes deep indignation," Aliyev stressed.
He noted that Azerbaijan's experience is an example of the need to make more efforts to prevent and resolve conflicts, ensure respect for the sovereignty and integrity of states, combat hatred and disinformation, build and maintain peace.
"Providing support to a conflict-affected state engaged in post-conflict peacebuilding, reconstruction, recovery and reintegration is and must remain an important commitment of the entire UN system. Such support is also needed in the context of investing in people to build resilience to today's threats and challenges.
Azerbaijan is determined to protect its security, sovereignty and territorial integrity, its people, ensure peace and stability in the region by all possible means in full compliance with the Charter of the United Nations and international legal norms," Yashar Aliyev said.
Bütün xəbərlər Facebook səhifəmizdə