Wimbledon stripped of ranking points over ban on Russian players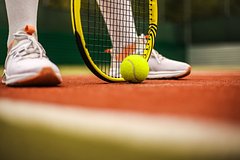 The ATP and the WTA have decided to penalise Wimbledon for its decision to ban Russian and Belarusian players from the tournament by stripping ranking points from the tournament this year.
The decision marks the most significant split among the tennis governing bodies in a long time. It means that Wimbledon will essentially be rendered an exhibition event in the tennis ecosystem, with players unable to earn the ranking points this year as they do at all other official tournaments.
Those who performed well at last year's edition will be unable to defend their points, meaning there could be significant disruption to the rankings.
According to foreign sources, Wimbledon organizers were fined 1 million dollars, SIA reports.
In addition, the British Lawn Tennis Association could be expelled from the Professional Tennis Association if Russian and Belarusian tennis players are banned from the tournament again next year. An appeal can be filed against the decision to impose a fine.
In the spring, tennis players from Russia were banned from participating in tournaments held in Great Britain. Due to the sanctions, local athletes were forced to miss Wimbledon.
In response, the Professional Tennis Association and the Women's Tennis Association decided to strip the tournament of ranking points.
Bütün xəbərlər Facebook səhifəmizdə