Bryza told about the current situation in Nagorno Karabakh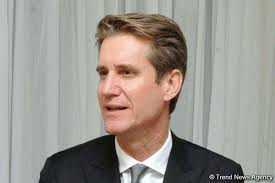 War is the continuation of politics. So in other words one uses military force to shape political realities. And Azerbaijan has done this brilliantly.
Former US Ambassador to Azerbaijan Matthew Bryza told this to Axar.az while commenting on the Armenian side to violate humanitarian ceasefire 3rd time.
"It is not surprising that Armenia violated the ceasefire. I think Azerbaijan has persuaded a prudent and highly effective military strategy so far to recover Azerbaijan on lands in the territory that had been occupied by Armenia. And I think now the decisive phase is upon us. Azerbaijan is pushing toward controlling the Lachin corridor and the terrain it has to fight through is quite difficult. And Armenian Forces are prepared. But I think Azerbaijan will keep pushing forward and once Azerbaijan gains control of the Lachin corridor then the military phase of the war is essentially over. Because Azerbaijan can then stop fighting and can bring Nagorno Karabakh under siege. Meaning that there will be no way to bring supplies into Nagorno Karabakh from Armenia".
Mr Bryza thinks when that happens Azerbaijan will find itself in a position of extreme strength in terms of negotiations:
"And those negotiations, of course, are political. Every war is settled by political negotiations, war is the continuation of politics by other means. So in other words one uses military force to shape political realities. And Azerbaijan has done this brilliantly. So soon Azerbaijan will be able to stop the military phase of the war and turn to the political phase from a position of extreme strength. And negotiate the return of course of control of all of 7 territories surrounding Nagorno Karabakh as well as Nagorno Karabakh itself being under Azerbaijan's sovereignty or control. And then that will be important to make sure that Azerbaijan helps the Armenian residents of Nagorno Karabakh feel safe and secure as Azerbaijani residents to return their former homes. And that will be very important to gain the support of the international community that Azerbaijan remains financially to rebuild Nagorno Karabakh and 7 surrounding Azerbaijani territories" – he added.
The humanitarian ceasefire was announced on Sunday in a joint statement released by the US, Armenian and Azerbaijani governments. The announcement followed discussions between US Deputy Secretary of State Stephen Biegun, Azerbaijani counterpart Jeyhun Bayramov, and his Armenian Foreign Minister Zohrab Mnatsakanyan. The US state department said an agreement was reached following intense negotiations.
But the Armenian side violated the ceasefire minutes after it came into effect on Monday. Two other ceasefires agreed earlier this month over the conflict were broken almost immediately.
Bütün xəbərlər Facebook səhifəmizdə
loading...