Baku to host International Congress on Advanced Earthquake Resistant Structures with participation of World's Top Scientists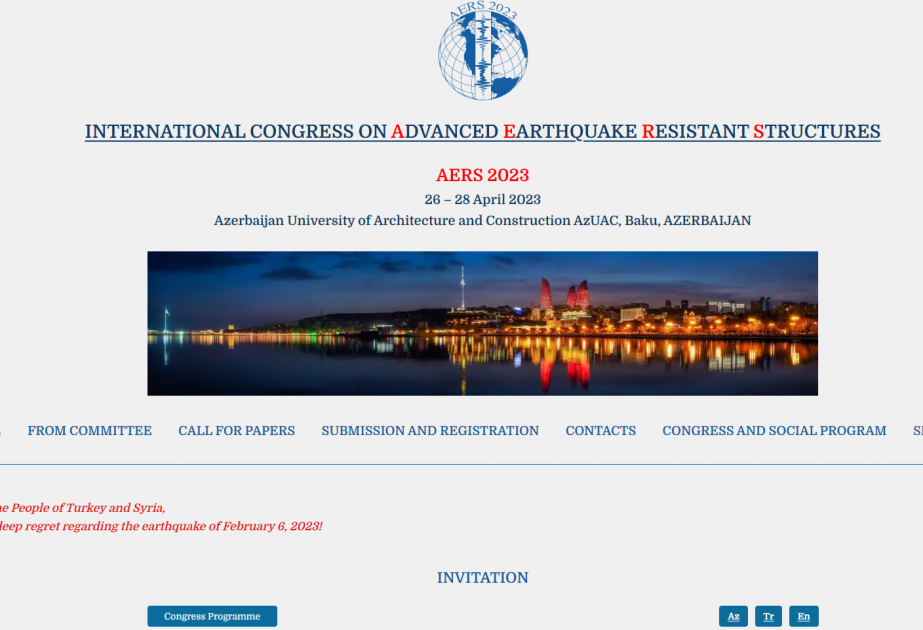 On April 26, Baku will host the International Congress on "Advanced Earthquake Resistant Structures" (AERS 2023) organized by the Azerbaijan University of Architecture and Construction with the support of the Ministry of Science and Education of the Republic of Azerbaijan and the State Committee on Urban Planning and Architecture of the Republic of Azerbaijan under the honorary committee, professor, rector of AzUAC, Gulchohre Mammedova and congress chair, professor Azer Kasimzade.
Top scientists from Turkey, USA, Japan, Canada, Italy, UK, UAE, Portugal, India, Greece and other countries in the person of directors and researchers of advanced seismic engineering research centers will participate in the Congress.
Akira Wada, Professor Emeritus at Tokyo Institute of Technology, President of Japan Society of Seismic Isolation, will report on "High-performance Dynamic Testing Installation for Seismic Isolation Bearings and Damping Devices", Tribikram Kundu, professor at University of Arizona, Head of Diagnostics of Engineering Systems Laboratory, on "Recent Developments in Non-Destructive Testing and Structural Health Monitoring Technology" and Azer Kasimzade, professor and director of Earthquake Engineering Scientific Research Center, will give a speech on "New Structural Seismic Isolation System for Tower Structures" in the Plenary Session of the Congress.
Furthermore, Carlos E. Ventura, Professor and Director of Earthquake Engineering Research Facility at University of British Columbia, Mustafa Erdik, Professor Emeritus at Bogazici University, Paulo Clemente, Professor and Research Director at Casaccia Research Centre, Andreas J. KAPPOS, professor, Secretary of Eropian EE Accociation, Humberto Varum, Professor at University of Porto, Portugal, Recerch Director of Strucrtural Tesding Lab, Tony Yang, Professor and Director of Smart Structures Laboratory at the University of British Columbia, Canada and other eminent scientists will also deliver a speech during the Congress.
AERS 2023 aims to get a holistic view of research in the main goals of earthquake engineering, to reduce the seismic vulnerability degree of structures, to emphasize each of the three design issues among the main goals of earthquake engineering in the current construction norms and rules, to call for the of use of advanced new structural systems against future earthquakes and other related actual issues.
As a result of the Congress, the application of the slogan Non-Disaster Earthquake Engineering "earthquakes do not cause disaster, if engineers don't make mistakes in design and construction" in engineering, the publication of distinguished scientific reports and articles in Springer Publication (Switzerland) and in the special issue of the Scientific Works Journal, the establishment and publication of a new scientific journal "Non-Disaster Earthquake Engineering in Structural Dynamics" and building cooperation relationship between AzUAC and the world's leading scientific research centers on earthquake engineering and participation in joint projects in the future is considered.
Bütün xəbərlər Facebook səhifəmizdə