Secretary-General: NATO countries to agree on full aid package for Ukraine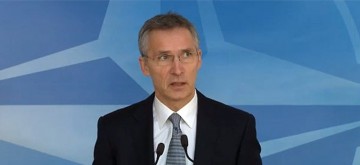 "NATO member states will agree on a full aid package for Ukraine at the Madrid summit," NATO Secretary-General Jens Stoltenberg said in his interview with the Spanish newspaper El Pais, SİA informs.
"The Madrid summit is decisive for NATO. It will be a historic summit for many reasons. First of all, because 30 allied countries will gather in Europe to discuss the most serious security crisis after the end of World War II and unite around this issue," he said.
According to the Secretary-General, many important decisions will be made during the summit: "A new strategic concept will be approved as a guide for the future of our alliance. We will agree on a full aid package for Ukraine. We will also make important decisions on the southern flank, especially for Spain and other southern allies. Of course, the focus is on Russia and Ukraine. But we must not forget other threats, including terrorism or instability in North Africa and the Sahel. Therefore, we will intensify our cooperation efforts with the southern countries and agree on a new package of support for Mauritania to strengthen the fight against terrorism, border control, and defense and security."
NATO's meeting of heads of state and government will take place on June 28-30 in Madrid, Spain. The summit participants will adopt a new strategic concept, strengthen the alliance, and consider the impact of global climate change on the security sector.
Bütün xəbərlər Facebook səhifəmizdə

loading...