He said he was captured by the enemy when he tried to return to his comrades.
"After a day and a half, I wanted to cross the field and move to our direction. I was halfway there, but the pain in my leg did not allow me to move forward. I also lost a lot of blood. Then I fainted and fell down. When I woke up, there were already Armenians. I wanted them to kill me but they didn't. I later found out that they had tried to keep me alive in order to release Armenian captives.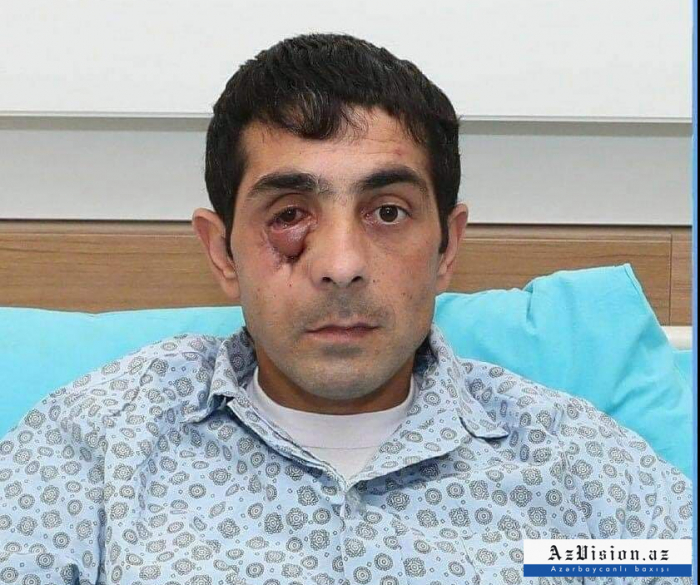 After I was captured, we went for about half an hour, and they took me somewhere and tortured me there. They tried to force me to repeat their words by kicking me in my kidneys, liver, and wound. I also cursed at them. As I didn't repeat their words, they tortured and beat me harder. Then they saw that I was unconscious and bleeding. They thought that if it continued for a while, I would lose my life. In the end, they got tired of me. They were angry because they could not get what they wanted. Then I was thrown into a "cell" like a prison. After staying here for a day, they took me to Armenia. In the hospital, they removed a bullet from my leg, but they did nothing else. Every day a nurse would come and clean my wound. Every day they were removing a piece of bone torturing me. They could do it at once, but it took 13-14 days. The nurse even deliberately removed the torn flesh instead of the bone in order to hurt me. Then they injected alcohol under the skin. The nurses were deliberately injecting the needle 15-20 times into my veins as if they could not find it. They did it deliberately, and then they said why I didn't shout. Once when I was screaming, I saw that they were looking at me. I knew they liked it so much. They enjoy our suffering. After that, no matter how much I could not bear the pain, I tried not to shout. "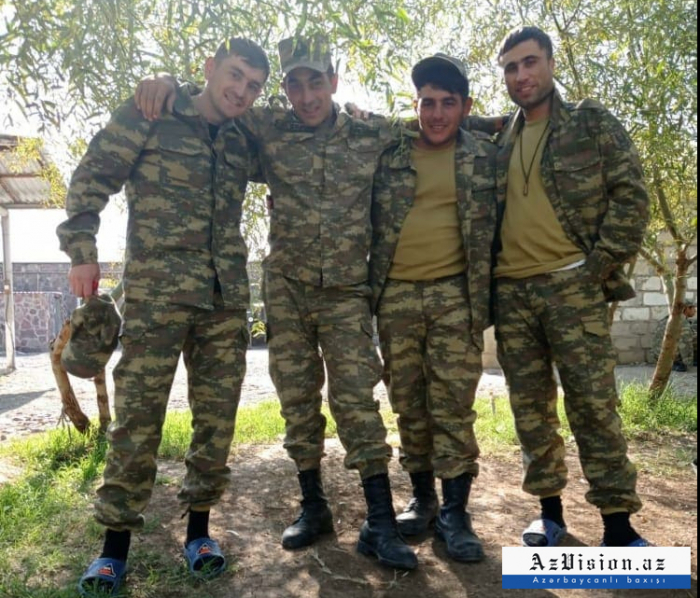 Alakbarov then spoke about the consequences of a shrapnel wound on his face and how the Armenians tortured him again:
"A shrapnel in my face hurt my palate. But they did not make any medical intervention. Once, on the night of November 28-29, my mouth started to bleed. I was operated for 3 and a half hours without painkillers or anesthesia. They put really bad stitches in my mouth as if they were making shoes, our doctor could not hold back their tears when they saw my wound. They deliberately rubbed the needle to the bone in my palate, as if the doctor couldn't find the vein. In the end, I was almost unconscious they found and tied off. It was not a normal stitch. One of my eyes does not see. If the operation was performed in time, my eyes would see. But because they didn't do it, my eyelids were dry. The International Committee of the Red Cross came to visit me only once in early December.
When I was in hospital and the cell, they did not give me food. Then they brought food to the hospital every 2-3 days. We did not eat the food that everyone brought. Sometimes when we were forced to eat, we knew that something had been added to make us suffer. It wasn't going to kill us, but it was going to hurt us. Armenians do not have any mercy. They only thought of torturing us, hurting us, they enjoyed everything they did. "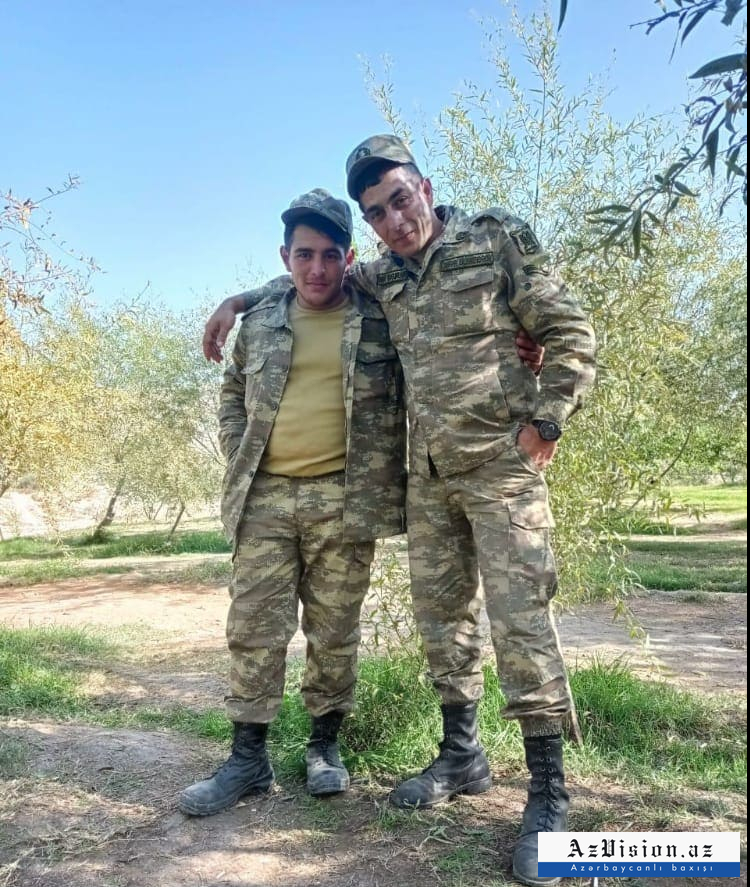 The serviceman said that he heard about his return to Azerbaijan from Russian peacekeepers while on the plane.
"We were not informed about returning. They closed our eyes. We didn't know where we were going. My eyes opened a little as I moved along the road. Then I saw that we arrived at the airport. But we still did not know where we were going. When we boarded the plane, I saw that Armenian soldiers had landed and Russian soldiers were there. Then General Muradov came and told us to open our eyes. They opened my eyes, then he said that you are going to Azerbaijan.

When we were there, they would get angry when we asked about the war. They didn't tell us anything. When I arrived in Baku, I heard from the nurse that we had won.
I had another operation in Baku. My leg was operated on again and recovered. My bones have not yet reached each other; iron has been placed. They operated on my face again. The bone under my eye had collapsed, and my eyeball had run out of place. I still have two operations left. They will be done in time. "
Omar said that he saw other Azerbaijani captives while in hospital in Armenia.
"I saw Yahya, Mobil and Anar in the hospital. Yahya was with me when they later took us into solitary confinement. We stayed there from November 19 to December 14. They were tortured in front of me. The nurses pinched our flesh with pliers, hit our wounds with a "jute" tied to our arms, injected alcohol under our skin. We couldn't talk. Whenever we could, we gestured to each other not to shout. Because they enjoyed it even more and were tortured. They stopped torturing us as we did not shout.
When I was there, I once heard that there was something like a rally, I heard expressions like "Nikol Kashakanyan" in Armenian. But I did not know what happened. One day, from morning to evening, on November 10 and 11, my ears were deafened by their voices. We didn't know they were protesting against Pashinyan. "
Alakbarov, who has been serving as a junior ensign in the Special Attack Battalion in the military unit in Ganja since 2015, joined the fighting on October 20 from the direction of Fuzuli.
"When the war broke out on September 27, my position did not allow me to take part in the fighting. I was the head of the canteen, but later I asked, my position was changed, I became a group commander and on October 20 I joined the fighting in the direction of Fuzuli. We fought in Fuzuli, Zangilan and Gubadli. We destroyed a large number of Armenians and took military booty. I had been fighting for 6-9 days, I had already taken 2 Armenian URALs. One of them was full of Armenian weapons. We were fighting face to face, I turned 2 km and took the cars from behind. One had a broken windshield and the other had a rear tire.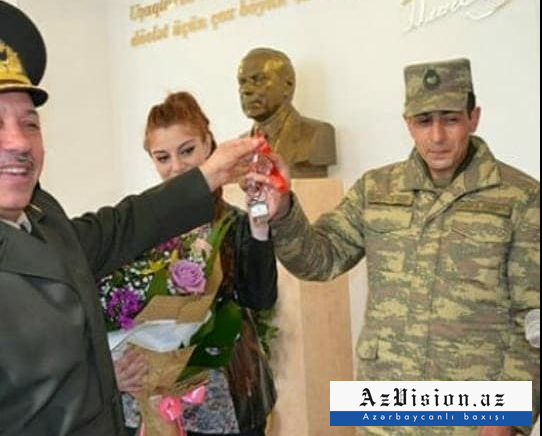 I have taken our comrades out of the siege three times. For the first time, we removed our wounded and martyrs. The second time, 50 people were under siege. As I knew the way, I helped them out. I showed them the way and they came out of the siege. For the third time, I went out at night with and showed them the safe way out and helped 62 people to come out of the siege. As soon as they came out, they asked me for Armenian positions. As soon as I gave their directions, they besieged and destroyed the Armenians. These happened near Khojavand. "
Omar said that the main battles took place at night, adding that when the enemy woke up, it was too late for him: "When they woke up, they saw that we had already approached them. So they left weapons and ran away. We used their own shells and weapons. They were afraid to fight us face to face. They could not succeed with us. They hit us with a gun fired from a tank. When we fought in the direction of Fuzuli, we were horrified to see how our villages were turned into ruins. azvision.az