Azerbaijanis in Britain expressed gratitude to countries supporting Azerbaijan, and protested against France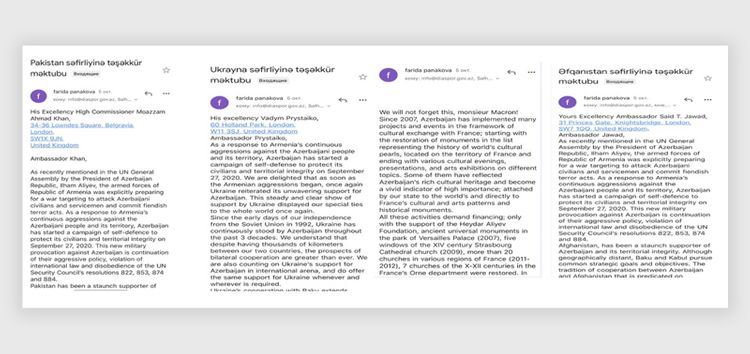 British Azerbaijani Society and Azerbaijani Community have sent gratitude letter to the embassies of Turkey, Ukraine, Pakistan, and Afghanistan in the UK for supporting our countries in these historic days, while protest letter to French Embassy, State Committee for Work with Diaspora told SİA.
The gratitude letters note that since Armenia's aggression started on September 27, the mentioned countries immediately and again stated their supports for Azerbaijan's right fight.
"The sustainable and clear manifestation of this support once again demonstrates that we have special relations with the world."
Our compatriots stated that the Azerbaijani community in Britain taking the opportunity express their gratitude to the governments of the countries resolutely supporting Azerbaijan and its right position.
The letter addressed to the French embassy a protest has been expressed against misinformation about our country sounded by President Emmanuel Macron: " There is a precise and certain concept that it is impossible to compare Azerbaijan with Armenia. It is not possible to measure us and occupier Armenians by the same criteria. We will not forget it, Mr. Macron!"
Bütün xəbərlər Facebook səhifəmizdə
loading...