Armenia's next failure in US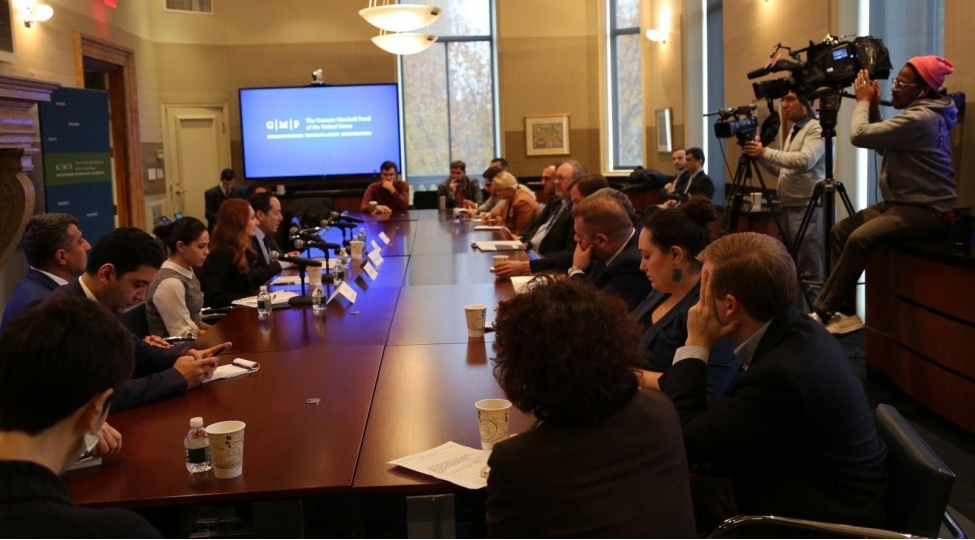 The event held yesterday in Washington at the Herman Marshall Fund in connection with Armenia ended in failure.
Armenian Parliament members Vahe Enfiajyan, Lilit Makunts (head of the fraction My Step Alliance), Edmon Marukyan and Tatevik Hayrapetyan attended the conference entitled "Promise of the velvet revolution in Armenia: promoting democratic reforms and strengthening strategic cooperation with the USA".
Despite a few weeks of preparation for the event, which was aimed at promoting the new government of Armenia, only 13-14 people participated. This once again demonstrated the US skeptical approach to Armenia's "reform" claims. Moreover, the visit of Turkish President Recep Tayyip Erdoğan to the US overshadowed the visit of the Armenian MPs.
Armenian MPs did not respond to questions about activity of Pashinyan's government.
The question by the Azerbaijani diplomat in response to the repeating position of Pashinyan government on "Armenia's commitment to peace" and "Calling for a solution beneficial to the Armenia and Azerbaijan along with Nagorno-Karabakh population" has caused confusion among the Armenian parliamentarians. They could not answer the question of what the term "population of Nagorno-Karabakh" means in the context of the conflict settlement mechanism with the determination of the future status of the region in the conditions of expulsion of 750,000 people from the occupied territories of Azerbaijan, as well as in the framework of the return of internally displaced persons and the territorial integrity of Azerbaijan. Moreover, the question remains unanswered as to whether the occupation of the territories of one neighboring country and territorial claims to another (Turkey) correspond to the "democratic and reformist" policy of Armenia.
Moreover, the Armenian MPs met with concern the questions of Azerbaijani journalist Rafig Gurbanzade about how they will explain to the American side the permission for Russia to enter the biological laboratories under construction with the financial support of the United States, and what goals the preservation of the Russian base in Armenia pursues.
Bütün xəbərlər Facebook səhifəmizdə
loading...