Assistant to Azerbaijani President: "Insulting mosque is unacceptable in all religions"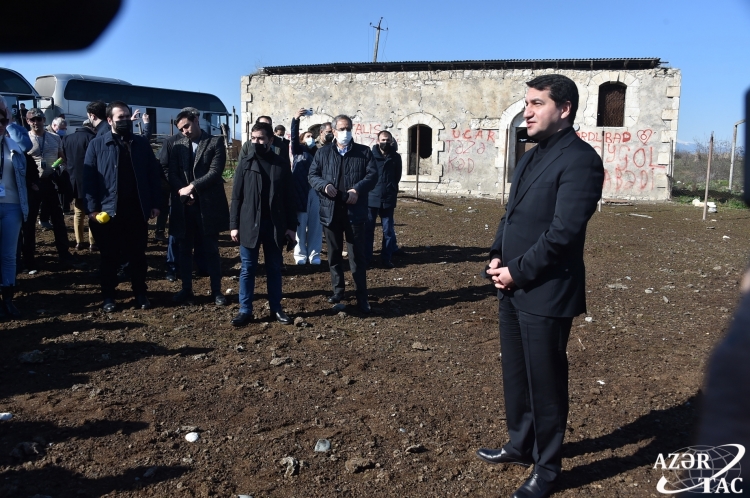 "Along with destruction of the mosque, as well as offending it is unacceptable in all religions," said Assistant to Azerbaijani President Hikmat Hajiyev while giving information to representatives of the diplomatic corps in the Mardinli village of Fuzuli region, on destructions conducted by Armenians, SİA reports.
"One of the main reasons for coming to Mardinli village is to show the destruction of the historical monument in this village, along with the destruction of the village. As you see, as we witnessed in other occupied territories, here we also see that this mosque was also used to keep animals, pigs.
"In the villages and settlements that you have visited so far, you have seen that everything has been destroyed. All of these are the sign of vandalism. Alongside the destruction of the Mosque, I think, the humiliation of it is unacceptable in all religions. This is a humiliation to the feelings of Azerbaijani people, as well as Muslims" he noted.
Assistant to the President has also added that alongside with other territories, the territory of this village has been also heavily polluted by infantry and anti-tank mines: "Work is conducted by ANAMA for clearing these territories, but after the statement dated 10 November, more than 50 Azerbaijani civilians and servicemen have been the victims of these mines".
H.Hajiyev noted that despite these destructions, Azerbaijan conducts construction and restoration works. He noted that within the framework of the visit, there will also be an acquaintance with Fuzuli Airport and the main highway from Fizuli to Shusha.
Bütün xəbərlər Facebook səhifəmizdə
loading...