The French channel broadcast a report from the front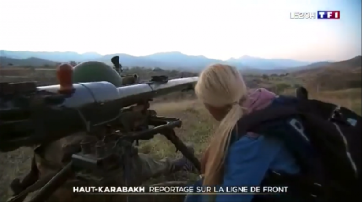 An exclusive report from the front line from Nagorno-Karabakh on the French TV channel TF1 spoke about the situation in Azerbaijan, the bravery of our army, the targeting of civilians and infrastructure by the Armenian armed forces, the bombing of a residential area in Ganja.
SİA reports that TF1 journalist Liseron Boudul was on the front line and our soldiers told her that the Armenians had left their weapons and ammunition and fled. They stressed that the Azerbaijani army will not stop and liberate every inch of our lands.
The report says that people, young people and children holding the Azerbaijani and Turkish flags are in a festive mood, saying "Karabakh, Karabakh".
The journalist stressed that our country, rich in underground natural resources, has a strong army.
The report said that people's daily lives were difficult near the front line, and they were fired upon by the Armenian armed forces. It was noted that women and children found shelter in underground trenches.
The houses and livestock of the civilian population were destroyed. The civilian casualty was discussed. It is reported that the Armenians fired on the civilian population.
Speaking about the bombing of a residential area in the centre of Ganja directly from Armenia, the journalist pointed to the destroyed houses. She said that 15 people, including women and children, were killed and more than 50 civilians were injured as a result of Armenian bombing.
The 3-minute report on Azerbaijan televised on TF1 TV channel was a big blow to the Armenian lobby.
Members of the Armenian lobby made insulting remarks and threats about TF1 TV channel on social networks. The report of TF1 channel once again revealed that the information spread by the Armenian lobby was false.
Bütün xəbərlər Facebook səhifəmizdə
loading...