Official Baku responds to French foreign minister's statement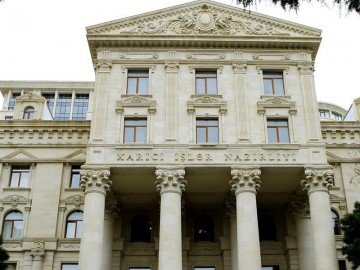 "We regret to note that on January 18, French Minister for Europe and Foreign Affairs Jean-Yves Le Drian made a statement unworthy of a diplomat in the National Assembly of France," Spokesperson for the Azerbaijani Foreign Ministry Leyla Abdullayeva said while commenting on the speech of the French Foreign Minister in the National Assembly, according to SİA.
"Eric Siotti, a member of the National Assembly from the Republican Party, who tried to insult the President of the Republic of Azerbaijan for provocative purposes, should have been severely reprimanded and punished. Minister Le Drian said that the words expressed by the President of Azerbaijan about the illegal visit to the Karabakh region of Valérie Pécresse 'are unacceptable in form and content.'"
"Minister Le Drian's interpretation of the statement of the head of state of another country in an irresponsible and unacceptable form is contrary to diplomatic traditions. We note with regret that the minister of a country with great traditions of statehood, like France, does not understand this," Abdullayeva added.
"The statement of the President of the Republic of Azerbaijan about the illegal visit of Valérie Pécresse, Michel Barnier and Bruno Retailleau to Azerbaijan is completely logical and correct. This is an adequate response to those who violate the laws of Azerbaijan," the spokesperson said.
Bütün xəbərlər Facebook səhifəmizdə
loading...