Two years pass since Armenia's second missile attack on Azerbaijan's Ganja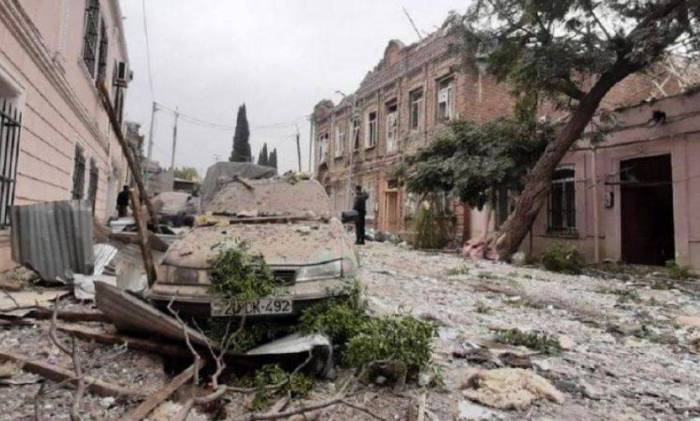 Two years have passed since the second missile attack of the Armenian armed forces on Ganja during the 44-day of the second Karabakh war that lasted from September 27 to November 10, 2020 .
On the morning of October 5, 2020, Azerbaijan's second largest city came under missile attack from Armenia's Berd region, Reports says.
The missiles hit the Ganja International Hospital, the secondary school No. 34, a furniture factory on Shah Ismayil Khatai Street, the so-called Yevlax bus station and the central market. As a result, three civilians were hospitalized with various injuries, and civilian infrastructure was severely damaged.
Simultaneously, on October 5, the Armenian armed forces fired two missiles at the city of Beylagan. One of the shells hit the yard of a kindergarten, and the other one hit an empty area in the city.
On the same day, the military-political leadership of the aggressor Armenia continued its terrorist acts against the civilian population, grossly violating the norms and principles of international law.
Thus, on the morning of October 5, 2020, along with Ganja and Beylagan, the enemy's armed forces fired on densely populated areas in Goranboy, Goygol, Tartar, Zardab and Barda districts.
As a result of the heavy artillery shelling of the Azerbaijani population by the armed forces of the occupying country, missiles hit the central streets of Barda and near the Central District Hospital. Mehdiyeva Shahriyar Isa was killed by shrapnel, and three people were hospitalized with various injuries and infrastructure was also severely damaged.
A criminal case has been launched under all relevant articles of the Criminal Code of Azerbaijan.
It should be noted that during the Second Karabakh War, the Armenian armed forces attacked Ganja five times (October 4, 5, 8, 11, 17) with missiles and heavy artillery. As a result, 26 people were killed, 175 were injured, and civilian infrastructure and vehicles in the city were severely damaged.
We should also note that 93 civilians, including 12 children and 27 women, were killed, 454 civilians were injured, 12,292 residential and non-residential areas, 288 vehicles and 1,018 farms were damaged in the Second Karabakh War.
During the Second Karabakh War, Barda District and the city center were attacked by the Armenian armed forces, using missiles and heavy artillery three times (October 5, 27 and 28). As a result, 29 people were killed, 112 were injured, and civil infrastructure facilities and vehicles in the district were severely damaged.
Bütün xəbərlər Facebook səhifəmizdə