Azerbaijan should become leader in Fourth Industrial Revolution
President Ilham Aliyev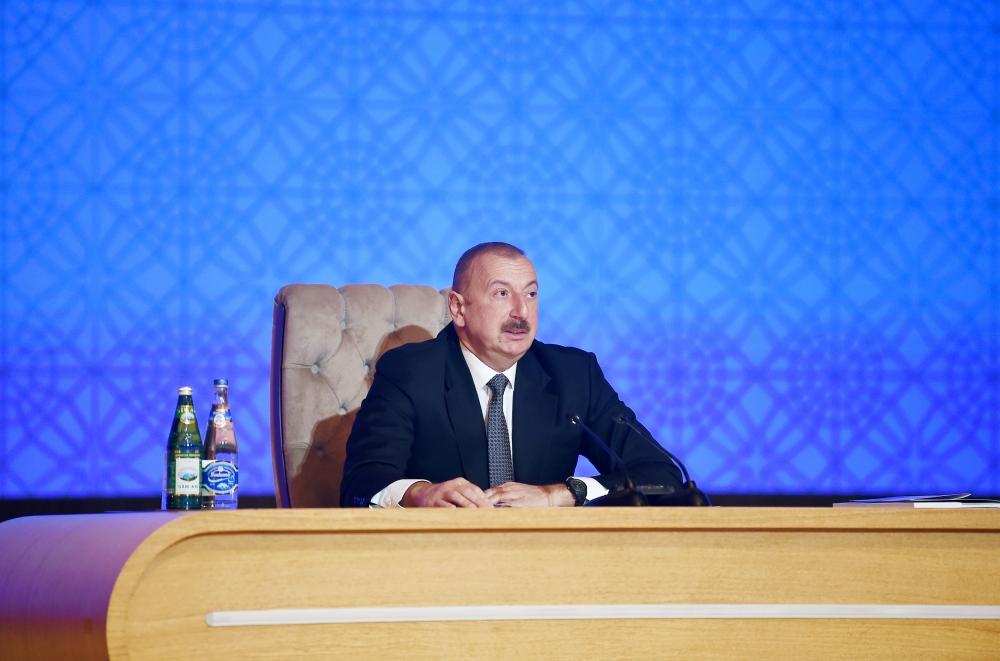 Azerbaijan should become a leader in the Fourth Industrial Revolution, Azerbaijani President Ilham Aliyev said in his closing speech at the conference dedicated to the results of first year implementation of "The State Program on socio-economic development of the regions of the Republic of Azerbaijan in 2019-2023", SIAreports quoting Trend .
"As I have already mentioned, preference in industrial production will be given to the non-oil sector," the Azerbaijani president said. "Last year, growth in this sector amounted to more than 14 percent and should be continued this year. I would like to touch upon a few questions here. I believe that the processing industry should be given priority. State bodies also need to pay more attention to this area. Low-interest loans should also be channeled in this area. Let entrepreneurs pay more attention to it themselves. We must do everything in a consistent manner. Of course, we procure and export our fruits and vegetables. Exports are growing, which is great. But processed goods are more expensive."
"We need to create a value chain," Ilham Aliyev noted. "Therefore, I believe that special attention in agriculture should be given to the processing sector. I can cite a few examples. Today, viticulture is developing at a very high rate in Azerbaijan. Thousands of hectares of vineyards established in recent years are producing crops today. Last year alone, grape harvesting increased by 34,000 tons. This directly creates the wine-making industry and we are exporting our wines to many countries now. The same applies to tobacco growing. Thanks to the development of tobacco growing, a new cigarette factory has been set up in Sumgayit and the Baku cigarette factory has been reconstructed. We must fully provide and will provide for domestic needs."
"In previous years, the countries that did not procure tobacco used to sell cigarettes to us," said the Azerbaijani president. "This is nonsense. We have both tobacco and conditions. So this is a manifestation of the development of the processing sector. It also includes cocoon production because a chain is also being created here – from cocoon harvesters to the Sheki silk factory. There, too, hundreds of people are already provided with work. Thousands of people are provided with work in the villages. They receive large sums of money in 30-40 days and without doing much of the hard work."
"Cotton-growing directly preconditions the processing sector," Ilham Aliyev noted. "Growth in cotton production is 46 percent. Last year, exports totaled $158 million. However, we can process 50 percent of the cotton in our country. What is necessary to do this? New spinning and textile factories, and finished goods factories. This chain is interconnected, so entrepreneurs should pay attention to this area and government bodies should point entrepreneurs in these directions. Thus, the development of the light industry will be ensured, jobs will be created, finished products will be produced and we will not import them. It is clear that all this is interconnected. Money will stay here in our country."
"The same holds true for vegetable growing," the Azerbaijani president added. "The vegetable processing industry is at a very low level. We collect vegetables, consume and export them. This is good, but they have to be processed too. For example, last year our exports in vegetable growing amounted to $243 million. Of these, $190 million worth were the exports of tomatoes, which grew by 7 percent. But if there is a sufficient number of tomato paste factories, then we can sell it at a higher price. Moreover, these products are in demand in all markets. Entrepreneurs should pay attention to this. I regularly voice these figures, Azerbaijan's self-sufficiency factor, so that local entrepreneurs could fill in these gaps."
"However, I see some passivity," said Ilham Aliyev. "Therefore, government agencies need to shake up entrepreneurs and take the initiative into their own hands. Especially when we consider that the state has created all the conditions, conducts all exhibitions and takes business people abroad. We have increased the exports of wine. Due to what? Due to the efforts of the state because it is through the state and at the expense of the state that people participate in international exhibitions where contracts are concluded. After all, the entrepreneur does not do this himself."
"Unfortunately, we have major violations in the field of alcoholic beverages," the Azerbaijani president noted. "The statistics were confusing. Why? Because entrepreneurs produce both vodka and wine! They write that they had produced such and such products in order to earn more. Of course, this is also being stopped and will be stopped. There should be transparency in every area, everyone should know this. Therefore, such tricks should stay in the past."
"Fruit growing, for example," Ilham Aliyev added. "Fruits worth $240 million have been exported and an increase of 11 percent was registered. But among these fruits there are hazelnuts. Hazelnuts worth $125 million have been exported, an increase of 33 percent. Due to what? Thanks to the state again. At that time, I issued the instruction to set up hazelnut gardens. Hazelnut gardens in our country covered an area of 30,000 hectares. Now we have brought it to 80,000 hectares. Who did this? The state did! Why don't business people plant them themselves?"
"The state has done everything – both in connection with cocoons and in connection with cotton," the Azerbaijani president said. "How long will this last? Let entrepreneur do the same. Today they receive a lot of money from cotton and hazelnuts. Fine, may they become even richer. But let them take the initiative as well. We will carry out this work anyway because our state needs it and entrepreneurs are also our citizens. An entrepreneur pays salaries to dozens, hundreds or maybe even thousands of employees. Therefore, what is the purpose of such associations and conferences?! Some of those present here are heads of the executive authorities, heads of central executive bodies and entrepreneurs."
"There should be an open discussion in the second part of this conference," Ilham Aliyev noted. "Slogans or statements are unnecessary. We need a candid conversation, let the entrepreneurs say what problems there are and where the solutions lie. And let representative of the state say where there are violations and say in a friendly manner: "correct this, this is the last warning, if you can't fix it, you will have only yourself to blame"."
"These are the issues that should be discussed here today," the Azerbaijani president said. "We need to make sure that starting from 2020 all these tricks, manipulations, falsifications and payments bypassing the cash desk remain in the past. The delivery of undeclared goods, the declaration of one product while the cargo consists of completely different products – state bodies know and knew about all this. Some simply turned a blind eye to that and conspired. This time is over. I am telling you: it's over. Therefore, everyone should work the way I said and that's all."
"At the same time, also on our agenda is the production of finished products in the industrial sector," Ilham Aliyev noted. "For example, the SOCAR Polymer plant was commissioned and we export polymers now. We export it to countries that produce finished products from it and then sell them to us. Therefore, we should create clusters here ourselves. If necessary, the state will provide support so that polymer products are manufactured in Azerbaijan and the money stays in our country. Therefore, it is necessary to pay attention to this issue too."
"Serious reforms are under way in the field of agriculture," the Azerbaijani president added. "I am sure that growth will continue to be rapid. I must inform you that farmers were granted subsidies in the amount of 380 million manats last year. These subsidies are now being paid through the E-Agriculture Information System. This is a very progressive system. At the same time, the development of an agricultural insurance mechanism began. I am sure that this issue will also be resolved this year."
"I would like to voice some figures in connection with growth in agriculture," said Ilham Aliyev. "So, the production of cocoons has increased by 25, cotton by 26, eggs by 9, sunflower by 43, potatoes by 12, vegetables by 12, melons by 11, fruits and berries by 9, green tea leaf by 7, grapes 20 percent. Exports have also significantly increased. I have already said this but I want to say it again that I view tourism as a type of exports, because foreign tourists spent 4.3 billion manats in Azerbaijan last year. So if this is considered a type of exports, tourism is the second biggest sector after oil."
"This is why I made sure that comprehensive measures were taken to develop tourism," the Azerbaijani president noted. "In recent years, the number of tourists in Azerbaijan has increased and is still growing. I am sure that this will continue to be the case in the future. But everything is good in its season. For example, if we thought about it 10 years ago, this would probably be wrong. Because where tourists would have come? There are no roads, no electricity, no hotels. Where would they come? But everything is available today. There is modern transport infrastructure. As I said, Heydar Aliyev International Airport is a five-star airport. In addition, there are five international airports in places most popular with tourists. There are also beautiful hotels."
"There are hotels of all the world's leading brands in Azerbaijan," said Ilham Aliyev. "Why did they come here? Why didn't they go to other countries? Because there is stability, trust, predictability, good investment environment and high credit ratings in our country. We have a good position in the Doing Business report. They see and look at reference data. Will the world's leading brand come and build a hotel here spontaneously? Of course not! The climate is wonderful, we have nine climatic zones, the hospitality of our people, historical monuments, cuisine and, of course, stability and security. Therefore, this work is carried out in the field of tourism."
"At a session of the UNESCO World Heritage Committee last year, the Sheki Khans Palace was included on the World Heritage List," noted the Azerbaijani president. "This is yet another great success after Gobustan, Icherisheher, the Maiden's Tower, the Palace of the Shirvanshahs. Where there are gaps, we must mobilize our tourism opportunities. For example, Yanardag was completely reconstructed last year, excellent conditions were created there, and it is possible to say that the vast majority of visitors to Baku travel there as well. We have mud volcanoes but there are no roads. Even if there were a road, it is impossible to find a place to drink a cup of tea. Therefore, I have asked our tourism agency to tackle this issue this year. Just as people go to Yanardag or Gobustan today, they will also go to the mud volcanoes because we are in first place in the world for the number of mud volcanoes."
"Tangible steps are being taken to turn our historical places, historical villages into a tourist zone," Ilham Aliyev added. "An instruction has been issued on the development of winter tourism, the Shahdag ski complex. I should also note, as I was informed today, that in January of this year the number of tourists increased by 18 percent in comparison with January 2019. In fact, this happened in January, which is not very attractive for tourists. Last year the increase was 11 percent, a year before that 4, earlier 24 and before that 22 percent. Now there is an increase of 18 percent only in January. Therefore, I believe that whereas 3,170,000 tourists visited our country last year, there will be even more this year."
"Of course, the latest event reflecting the importance and role of our country and attitude towards us has been the creation within the framework of the Davos World Economic Forum of a regional center in Baku for the Fourth Industrial Revolution between the Davos Forum and Azerbaijan," said the Azerbaijani president.
"This is a very significant event because the Davos World Economic Forum is the number one forum in the world," Ilham Aliyev noted. "There is nothing higher than that. It is number one both in political and economic spheres, and the election of Azerbaijan as a center in the South Caucasus and Central Asia is a major event, of course. The President of the Forum and I signed a protocol of intent, work will begin and Azerbaijan should become a leader in the Fourth Industrial Revolution. As the Davos Forum considers us a leader, we must become a leader. After all, it means further development. We must ensure scientific progress and development, guide our country into the future and modernize it. So I see this event as yet another success and another victory. I am sure that many more victories are still ahead of us."
Bütün xəbərlər Facebook səhifəmizdə
loading...