Azerbaijan President chairs conference on the State Program of Socioeconomic Development of regions in 2009-2013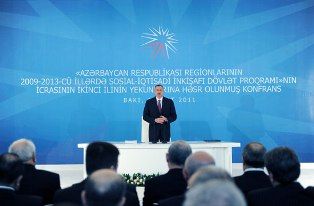 A conference on results of the fourth year of execution of 'The State Program of Socioeconomic Development of regions of Azerbaijan in 2009-2013' was held under the chairmanship of President Ilham Aliyev at the Baku Business Center on 12 February.
According to the official website of the President of Azerbaijan, the head of state familiarized with the exhibition on the work carried out in 2003-2013 for the socioeconomic development of the country.
The head of state made a welcoming speech at the conference.
Welcoming speech of President Ilham Aliyev:
"The state program of socio-economic development has been successfully implemented for already nine years. I believe that the adoption of the program was very important for the economy, as well as settlement. The program shows that the intention we declared in 2004 is becoming a reality.
There were several reasons for the adoption of the program in early 2004. First of all, the development of the regions, of course, was a problem at the center of attention.
We were facing the issue of implementation of infrastructural projects for regional development. All the same, the development of entrepreneurship, raising state support and coordinated solution of all these issues constituted the main essence of the program,. Issues of raising local production, reducing dependence on import, creation of jobs and thus eradicating poverty and unemployment were also of great importance. That is the state program of socioeconomic development of regions has in fact become the most important and major economic tool for the successful and sustainable development of our country and economic diversification.
I am confident that we will successfully fulfill all tasks facing us this year and thus our second five-year program will be implemented. Today, there is a number of factors that enable us to say that. There were no factors in 2004. Today our economy is very strong. We have great monetary reserves. It is possible to say that all our initiatives in oil and gas sector are being implemented.
In 2004 we merely declared our intention and mobilized our will. In 2004 the BTC pipeline, which is now the main part of our oil strategy, was not yet built. We did not ensure the flow of currency into the economy of our country. Despite this, in 2004 this skillful and thorough step was an impetus for the comprehensive development of our economy.
Our international relations further expanded. If earlier we depended more on foreign financial sources in implementation of projects, this is not true for today. Azerbaijan has become a creditor country. Azerbaijani state even provided a loan to the International Corporation-this structure is a main part of the World Bank.
That is, naturally, within these years our country has been successfully developing in all aspects. Therefore, I do not see any hindrances, any problems for the successful completion of the program this year. Simply local executive bodies, local entrepreneurs and central executive bodies must always work transparently and fulfill all instructions with dignity.
Sound policies, political and economic reforms, unity, unity between the government and the people, people's support for economic reforms, liberal economy and, at the same time, strong power, stability - these are the key factors behind our success.
Today we already do not come across previously declared thoughts in foreign press that Azerbaijan will face an oil damnation, 'Dutch syndrome', the country will develop lopsidedly. These unfounded allegations are left behind and the economic indicators of the last year show again that our path is correct, because last year the nonoil sector of economy grew by almost 10%. This growth proves that our reforms give their effect.
In general, if we analyze the period from 2004 up to now, we will see that we carried the entiore work consistently. The processes in our country are developing in a positive direction. There are statistical data confirming this thought. Over the past nine years, the economy of the country has almost tripled. I think that this indicator has no analogues in the world. Industrial production has grown almost three times and nearly $130bn have been invested in the country's economy, while last year investment reached a record level-over $22bn. Of them, local investments made $13bn.
International financial structures highly appreciate the work carried out in Azerbaijan and the leading structures analyzing the credit ratings have increased the credit ratings of Azerbaijan, at the time when the credit ratings of some European countries have dropped. The experience of the past few years is especially positive, since even in the years of the financial and economic crisis Azerbaijani economy developed and thus the successful development of our country was ensured.
All the same, we are seriously dealing with social issues. Our reforms in economic sphere are accompanied with a strong social policy. If we again view the statistics of the past nine years, we will see that the average salary in Azerbaijan in 2004 was about $100, and today it is $500. Average pension was on the level of $20 while today it is reaching $200. Certainly, these figures are also not satisfactory and I consider that the level of average pension and average salary must and will grow.
The salaries to people working on state enterprises and pensions will be raised, while owing to the conditions created for entrepreneurial development, those who work in private sector will also improve their financial state. But I have to repeat that the great gap shows that we have management to attain great achievements in the resolution of social issues as well.
There are still many problems. We are aware of these problems and we settle them. Certainly, new programs will be presented after completion of the second state program this year. That is the state fulfills all tasks set before it. All the same, we are holding practical work for developing entrepreneurship since partnership between the state and private sector has an important role for attainment of our goals.
Serious steps have been taken for development of entrepreneurship. Primarily, there is a very strong political will for development of entrepreneurship. Support provided to entrepreneurs on a high level, on a level of president certainly encourages them and averts the problems that they sometimes face. There are still such problems as red-tape, definite obstacles, unfounded interference with their affairs. Certainly, the support provided by the president to the development of entrepreneurship also promotes the improvement of the business environment for them. Though much is yet to be done in this sphere, as there are shortages.
We have taken a very big step for the development of entrepreneurship. As I said earlier, constructive work carried in the regions and infrastructure projects provide an excellent way for businesses. If the city has no electricity or it is fed intermittently, road and utility infrastructure are in poor condition, not a single normally functioning enterprise can be created there. Therefore, state investments served and continue to serve the development of entrepreneurship. All the same, the state financial support play an important role in development of entrepreneurship.
Loans in the amount of AZN 1,200,000,000 were provided to entrepreneurs over the past years through the National Fund of Assistance to Entrepreneurship. This financial support certainly attaches big impulse to entrepreneurship development. The projects implemented through these loans are certainly implemented at the cost of the entrepreneurs. That is, here we see the state partnership and private sector.
The loans are provided purposefully, primarily, to spheres necessary for the development of the country, for provision of food security-we will speak about it. Several years ago, we have put the task to provide ourselves with foodstuffs. And we are gradually coming closer to this task.
Of course, the development of entrepreneurship in the regions and in major cities will ensure successful development of our country. Since our chosen path is the path of the market, liberal economy. Business environment and investment climate in Azerbaijan are good. They could be even better. But I believe that they are good. Otherwise, last year we would not have received investment of $ 9 billion from abroad. Obstacles facing entrepreneurship must be averted in the coming years.
I believe that the annual conduction of such meetings is a very significant event. We once again analyze the whole work - both at today's meeting, and on the eve of it. Instructions that will be given after this meeting will help to ensure that work in the regions was even faster.
All structures - local agencies, businesses, central executive bodies must carry out a coordinated activity on these issues, since this is our responsibility. I have repeatedly said and I want to say today that for me there is no difference between private and public companies. Both of them are Azerbaijani companies, both operate in Azerbaijan, work for Azerbaijan. Therefore, the attention paid to the private and public sectors should be equal, and I believe that we are making it. If we look at the share of private sector in GDP, we can see that it is already more than 80 percent. According to the latest data, the share of private sector in the GDP is 83 percent. For a country that lives in a market economy for only 20 years, it is, I believe, it is a high figure.
The work aimed at economic diversification, complete provision of food security, raising our industrial potential, raising the export potential, reducing dependence on import, improving business environment will further be carried out. The successful development of our country, econom,ic diversification and wonderful prospects give a ground to say that the remaining problems, mistakes and shortcomings will also be averted. For this purpose, every citizen – both the state official and entrepreneur must primarily realize his responsibility, since our goal is to develop the country and turn Azerbaijan into a developed country.
Certainly, the steps taken in energy policy, are making us stronger. The work held in this sphere and proposed initiatives will ensure our long-term financial sources. And we are rationally using these capacities. The new projects proposed by Azerbaijan and new initiatives are highly praised by the world community. Azerbaijan is already assuming a great responsibility. Our joint activity with foreign partners in both Azerbaijan and abroad is rising to a new level. Today Azerbaijan already starts investing in foreign countries.
This is a new process for us. But we are prepared for this and Azerbaijan is recognized worldwide as a very reliable investor and a friendly country. Certainly, our international ties, particularly, increase in the number of countries friendly to us and new business projects must ensure our economic interests. We will also speak about it.
At a previous session I said that new opportunities for the access to foreign markets must be studied. Certainly, for the access to the foreign markets, production of the country must respond to high standards. I am glad that new enterprises are already being commissioned and their respond to modern standards while the loans provided by the state enterprises do not only settle financial issues but also ensure state control. State recommendations play their role and thus production of expert direction is growing. If we want to develop agriculture successfully in the future, we must today ensure our great export capacities and enter new markets. Despite Azerbaijan is developing and population is growing, our market is quite limited.
But our potential is very high. Therefore, if we do not have an entry to the foreign markets, in a few years the work held in our agrarian sector, will probably not be frozen but after achieving a certain level, it won't be able to develop further. Therefore, we are dealing with this issue today. Me and our other structures discuss these issues during the meetings with foreign partners. Investment in foreign countries primarily diversifies our investment portfolio. All the same, we, as investors, win a great trust in most countries. Thanks to this trust, in the future our export potential to these countries will also grow.
Certainly, private structures must also maintain close tie with the state structures, because some private structures find it not easy to enter the foreign markets and sometimes they are even not interested. But, I have to repeat, that the country has the economic policy. This economic policy must ensure the comprehensive development of Azerbaijan. It is necessary to use the internal resources effectively and we must be widely represented in the foreign markets'.
Bütün xəbərlər Facebook səhifəmizdə