Iraqi protesters attack Iran consulate in Karbala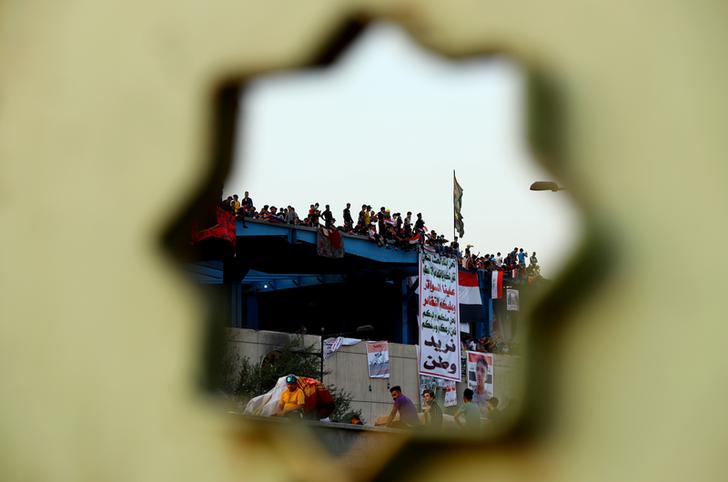 Dozens of Iraqi protesters attacked the Iranian consulate in the Shia holy city of Karbala on Sunday, scaling the concrete barriers ringing the building, bringing down an Iranian flag and replacing it with the Iraqi flag, eyewitnesses said.
Security forces fired in the air to disperse the protesters who threw stones and burned tires around the building on a street corner in Karbala south of Baghdad. The street clashes appeared to continue well into the early hours of Monday, based on social media reports.There were no immediate reports of casualties in the incident, which comes amid ongoing protests in the capital Baghdad and majority-Shia provinces in the south.However, locals report that four protesters have been killed outside the consulate, the courtyard of which was seen on fire in some social media videos.More than 250 people have been killed since the protests in Baghdad and the south of the country started in early October, driven by discontent over economic hardship and corruption.
Iraq's Prime Minister Adil Abdul Mahdi appealed on Sunday to protesters to help restore normal life across the country and said the unrest was costing the economy "billions of dollars".In a statement published on Sunday evening, Abdul Mahdi said the protests which "shook the political system" have achieved their purpose and must stop impacting the country's trade and economic activities."Threatening the oil interests and blocking roads leading to Iraq's ports is causing big losses exceeding billions of dollars," said Abdul Mahdi, warning that unrest was pushing up prices of goods.
The protests are directed at a postwar political system and a class of elite leaders that Iraqis accuse of pillaging the country's wealth while the country grows poorer. But protesters have also directed their rage at neighbouring Iran and the powerful Iraqi Shia militias tied to it.The anti-government protests in Karbala, Baghdad, and cities across southern Iraq have often turned violent, with security forces opening fire and protesters torching government buildings and headquarters of Iran-backed militias.The protests have grown and demonstrators are now calling for sweeping changes, not just the government's resignation.Tens of thousands of protesters have gathered in Baghdad's central Tahrir Square and across southern Iraq in recent days, calling for the overhaul of the political system established after the 2003 US-led invasion. Protesters have also taken over a large tower in the square that was abandoned after it was damaged in the war.
Thousands of students have skipped classes to take part in the street rallies, blaming the political elite for widespread corruption, high unemployment and poor public services.
Bütün xəbərlər Facebook səhifəmizdə
loading...