Azerbaijan MFA: Armenia seeks to aggravate situation in region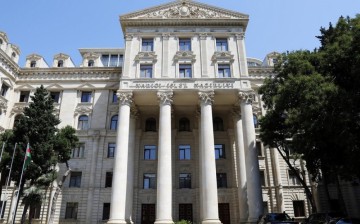 The baseless statement of the Ministry of Foreign Affairs of Armenia regarding the alleged violation of the ceasefire regime by the Azerbaijani side on September 28, as well as the false accusations against Azerbaijan on the social network account of the prime minister of this country, clearly show that Armenia aims to aggravate the situation in the region, the Ministry of Foreign Affairs of Azerbaijan told SİA.
As previously informed by the Ministry of Defense of the Republic of Azerbaijan, on September 28, at about 18:00, the Armenian armed forces units using various caliber weapons fired on the Azerbaijan Army positions in the direction of Kalbajar and a serviceman of the Azerbaijan Army was wounded as a result of the fire. The Azerbaijan Army Units stationed in this direction took adequate retaliatory measures.
Undoubtedly, the provocations of the Armenian side had become a 'tradition' and occurred on purpose on the eve of the next high-level meeting. Armenia violated the ceasefire at 9:00 on September 13 of this year, on the eve of the Summit of the Collective Security Treaty Organization, and continued its provocations for 36 hours by deliberately increasing the tension. Even now, when contacts between the two states are retaking place, the next meetings are being planned, and on the eve of the visit of international mediators to the region, Armenia is playing the same game, making people victims of its weak policy.
It is clear that this is Armenia's next excuse to disrupt the negotiation process.
The leadership of Armenia should not aggravate the situation in the region, should not put forward reservations to the negotiation process, should stop the practice of accusing the international community, and should sit at the negotiation table.
Unlike Armenia, Azerbaijan, the initiator of the peace agenda and rapidly working on large-scale reconstruction and opening of transport communications in the liberated territories, is not interested in creating tension in the region. However, any provocation against Azerbaijan will be resolutely prevented.
Bütün xəbərlər Facebook səhifəmizdə