Covid-19 death toll rises sharply to 1,355 after China changes way it counts cases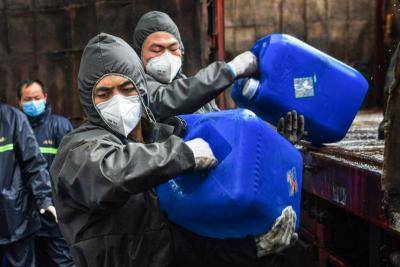 The number of deaths and new cases from China's coronavirus outbreak spiked dramatically on Thursday after authorities changed the way they count infections in a move that will likely fuel speculation that the severity of the outbreak has been under-reported. The hard-hit central province of Hubei reported 242 deaths in just one day and 14,840 new patients – by far its biggest one-day tally since the crisis erupted last month.
The jump raised the death toll to 1,355 and the total number of nationwide infections to nearly 60,000 – just hours after President Xi Jinping touted "positive results" from the government's drastic measures to contain the virus and a top Chinese expert predicted the epidemic would peak this month.
'Clinically diagnosed'
Officials in Hubei said they were broadening their definition for COVID-19 cases by including people "clinically diagnosed" with the virus in the daily tally. This means officials can use lung imaging on suspected cases to diagnose the virus, rather than the standard nucleic acid tests.
China has placed some 56 million in virtual quarantine in Hubei and its capital, Wuhan, since late last month and restricted movements of millions more in cities far from the epicentre in an unprecedented effort to contain the virus.
Cruise ship infections
Several countries have banned arrivals from China, while major airlines have halted flights to and from the country, as hundreds of people have now been infected in some two dozen countries. The biggest cluster of cases outside China is on a cruise ship quarantined off Japan's coast.
An additional 44 people on board the Diamond Princess have tested positive, raising the total number of cases to 218, while thousands of passengers and crew face a second week in quarantine.
Bütün xəbərlər Facebook səhifəmizdə
loading...