Polish farmers protest on border crossing with Ukraine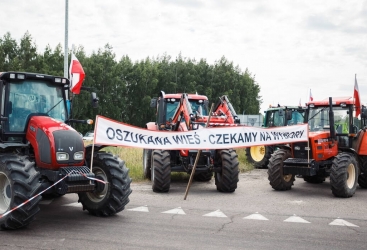 Farmers in eastern Poland have blocked traffic near the border with Ukraine since Friday, protesting against the inflow of Ukrainian grain, SIA refers to foreign media.
Polish farmers have complained for months about the inflow of Ukrainian produce to Poland, which has depressed local prices and made it difficult to sell their own grain. The latest protest came despite Polish and EU efforts to soften the market impact of Ukrainian agricultural goods.
Due to the farmers' protest, a national road leading to the border crossing in Dorohusk was blocked. Around 450 lorries are waiting in a 13-kilometre line to cross the border with only two vehicles per hour being allowed to pass.
On Friday night, the Polish agriculture minister, Robert Telus, met with representatives of the protesters in Dorohusk. According to him, nearly all the demands submitted by farmers are already being implemented by the government, including through subsidies of PLN 3,000 (EUR 675) per hectare of wheat.
Telus also said he had presented the protesters with further forms of support prepared by the government.
Yielding to farmers' pressure, Poland introduced a temporary ban on Ukrainian food in April, a move which was contested by the European Union as unilateral. But arguments from EU member states bordering Ukraine have persuaded the European Commission (EC) to introduce an EU ban on Ukrainian grains in countries neighbouring Ukraine. On June 6, the EC extended the ban on imports of wheat, corn, rapeseed and sunflower seeds from Ukraine until mid-September.
Bütün xəbərlər Facebook səhifəmizdə