Nar continues to renew its stores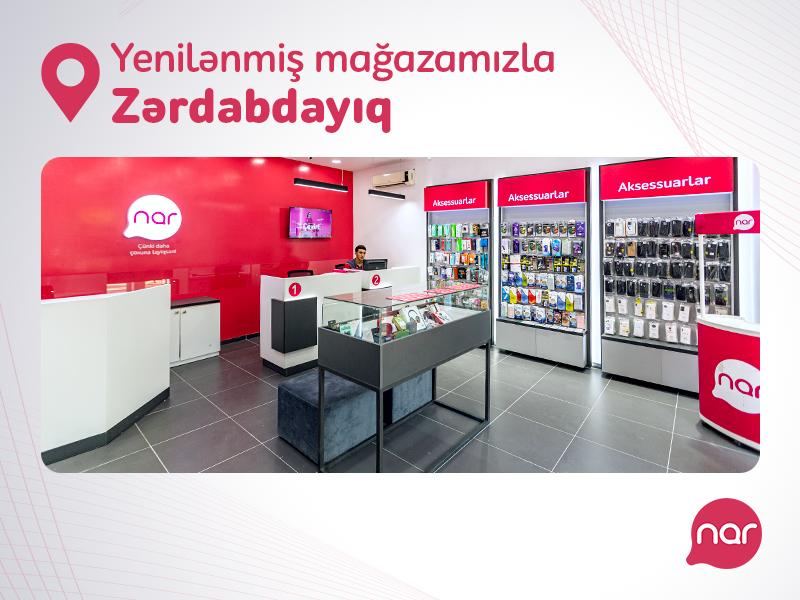 Nar is delighted to announce the grand reopening of its fully renewed store in Zardab's district center. With a commitment to enhancing customer experience, Nar's revamped store on Azerbaijan Avenue in the Zardab district is set to cater to the diverse needs of its valued customers.
The newly refurbished store will offer a comprehensive range of mobile phones, devices, accessories, and a suite of services, including number plate sales, restoration, and duplication. Whether looking for the latest gadgets or require personalized services, Nar's Zardab store is your one-stop destination.
This initiative is part of Nar's ongoing commitment to delivering exceptional customer-centric services, with plans to introduce 11 more stores in a fresh, modern concept nationwide by the end of this year. The objective is to ensure that all Nar visitors enjoy a high-quality shopping experience while staying up-to-date with the latest advancements in mobile technology.
For a complete list of Nar store locations and in-depth information about our services, please visit our website at nar.az/map
Nar currently provides high-quality communication services to 2.2 million subscribers. Nar has been the leading mobile operator in the country according to the Customer Loyalty Index for the last 4 years. The mobile operator adheres to a customer-centric strategy and provides best-in-class service at an affordable price.
Bütün xəbərlər Facebook səhifəmizdə