Azerbaijan State Border Service holds 'Parent meetings' in military units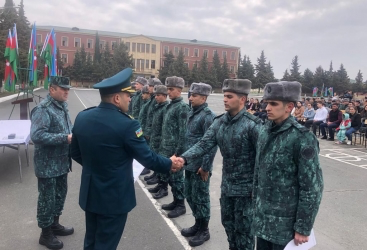 In the State Border Service, a series of measures are being continued in the direction of increasing the efficiency of training and education work with the military personnel of the fixed-term active military service, maintaining the patriotism education and moral and psychological state of the personnel at a high level, and creating a healthy moral environment in the military collectives, the State Border Service told SIA.
According to the Press Center of the State Border Service, on the days of Nowruz holiday, "Parental meetings" were held with military servicemen of the State Border Service and border guard units.
During the events, general information about the military units was given, and the created service and living conditions were demonstrated. As a result of the supreme attention and concern of the President of the Republic of Azerbaijan, Supreme Commander-in-Chief of the Armed Forces, Ilham Aliyev, the achievements achieved in the direction of ensuring the border security of our country at the highest level of requirements, organizing the reliable protection of the borders of our homeland, raising the border protection of our country to the most modern level of requirements were emphasized. At the end of the event, a group of military servicemen were presented with a certificate of honor and a valuable gift, and "thank you" letters were presented to the parents of military servicemen who distinguished themselves with their service.
The speaking parents expressed their satisfaction with the created conditions and gave their recommendations to their children. Later, opinions were exchanged about the duties of parents and military collectives in the organization of state border protection, the opinions and suggestions of the parents were heard.
Bütün xəbərlər Facebook səhifəmizdə