Azerbaijani FM participates in Brussels International Donors Conference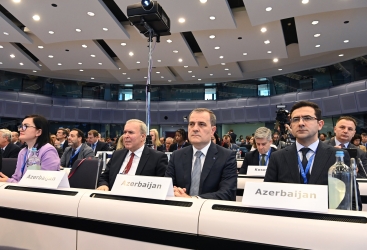 On March 20th, the Minister of Foreign Affairs of the Republic of Azerbaijan Jeyhun Bayramov participated in the "Together for the People of Turkiye and Syria" International Donors Conference held in Brussels, SIA refers to local media.
The press service department of the Ministry of Foreign Affairs told AZERTAC that the members of the European Union (EU), neighboring and partner countries, the "Big Twenty" (G20), the countries of the Gulf Cooperation Council, the UN, other international organizations, including international and European financial institutions, attended the conference in order to support the elimination of the consequences of the earthquakes that occurred in Turkiye and Syria.
A preliminary assessment of post-disaster needs in Turkiye prepared by the Turkish government, the United Nations Development Programme, the World Bank and the EU, was presented following the video speeches of the President of the European Commission, Ursula von der Leyen, the Prime Minister of Sweden, as the country holding the Presidency of the Council of the EU, Ulf Kristerson, and the President of Turkiye, Recep Tayyip Erdogan.
After the speech of the Minister of Foreign Affairs of Turkiye, Mevlud Çavuşoğlu, the speeches of the participants of the Conference were heard within the session of promises of aid.
Speaking at the conference, Minister Jeyhun Bayramov said that the organization of the event aimed at mobilizing the efforts of the international community to eliminate the consequences of the terrible disaster is commendable. He also noted that Azerbaijan stands in solidarity with the brotherly Turkiye and Syria, which are facing great loss of life and destruction as a result of devastating earthquakes.
The Foreign Minister brought to attention that since the first days of the earthquake, Azerbaijan has shown support to Turkiye and immediately sent search and rescue teams, medical personnel, volunteers, as well as humanitarian aid.
"Azerbaijan has sent 940 rescuers, medical personnel and volunteer teams, more than 5300 tons of humanitarian cargo to the region. More than 45 million US dollars have been provided to Turkiye through relevant organizations working in the earthquake region. Azerbaijan, as always, will be next to brother Turkiye, and in this regard, our country will continue to provide result-oriented material and technical support in the post-earthquake reconstruction and construction works," the Azerbaijani FM stated.
"The Republic of Azerbaijan will implement the construction of residential buildings, social facilities and an educational center in the amount of 100 million US dollars as part of its contribution to the reconstruction work in the region," he added.
At the end of the conference, the President of the European Commission, Ursula Von der Leyen, who hosted the event, and the Prime Minister of Sweden, Ulf Kristersson, as the country holding the presidency of the EU Council, made final statements.
Bütün xəbərlər Facebook səhifəmizdə