Korybko`s article on reconstruction of Nagorno-Karabakh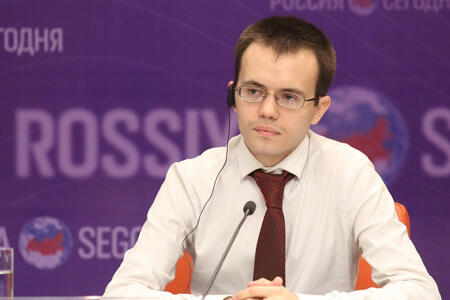 Axar.az presents the article "Regional integration will be driven by the reconstruction of Nagorno-Karabakh" by Andrew Korybko.
President Aliyev's vision of establishing a regional integration platform will be driven by the multilateral efforts to reconstruct the recently liberated Nagorno-Karabakh region. This western fifth of the country's territory requires urgent assistance to rebuild after nearly three decades of neglect following the Armenian occupying forces' refusal to develop the land that was under their de facto control for so long. The new reality that emerged late last year as a result of Azerbaijan's glorious victory in the Patriotic War is creating new opportunities for bringing those two countries, Russia, Turkey, Iran, and Georgia closer together.
It must be said, however, that all reconstruction activities in the recently liberated region must be approved by Baku since they're taking place in Azerbaijan's universally recognized territory. It would be extremely troublesome if the Armenians living in the Russian peacekeepers' zone of responsibility unilaterally tried to court investment from their coethnics in Armenia without Azerbaijan's approval. Likewise, it's similarly provocative that the Armenian Foreign Minister visited Nagorno-Karabakh earlier this year since his trip was illegal and arguably contradicts the spirit of the Russian-brokered ceasefire agreement.
In other words, Nagorno-Karabakh's reconstruction shouldn't be exploited as the pretext for justifying politically provocative actions intended to incite tensions between Azerbaijan and Armenia. Russia has a responsibility to ensure not only military security but also political and social security in the areas under its peacekeepers' control. It's understandable why Moscow might feel reluctant to directly intervene in the affairs of the locals there out of fear of upsetting its Armenian ally, but it must understand that its failure to do so could unwittingly complicate the situation if this trend continues until the worst-case scenario that it spirals out of control.
This very serious cause of concern aside, there are plenty of reasons to be optimistic about the multilateral efforts being undertaken to reconstruct Nagorno-Karabakh. Turkey is already taking the lead in all respects, while Iran has voiced interest in assisting in the restoration of mosques. Just last week, geographically distant but culturally close Pakistan extended its support to these efforts while hosting the Azerbaijani Foreign Minister. It also goes without saying that Russia is of course destined to play a prominent role as well considering the goodwill that it enjoys among the region's two communities and its historic influence in the South Caucasus.
What's so exciting about all of this isn't just that people's lives will be improved, but that the world has the chance to experiment with a new model of development. Azerbaijan will manage these multilateral efforts, perhaps innovating new organizational techniques for optimizing them that could then be replicated by other countries seeking to encourage large-scale foreign investment in their own underdeveloped regions. In addition, all of this is occurring in the context of the COVID-19 pandemic, meaning that each investment will be geared towards the post-virus economic reality that the world is finally beginning to acknowledge.
Interestingly, while Nagorno-Karabakh was one of the world's least-developed regions for quite some time, it might eventually become among the most developed ones with cutting-edge green technology and infrastructure investments if everything goes according to plan. Each stakeholder can contribute something unique to this greater goal of showing the world that a variety of countries can unite in support of a single objective: rebuilding a war-torn and historically neglected region after hostilities finally end. In the best-case scenario, Nagorno-Karabakh might even set the standard for rebuilding Afghanistan, Libya, Syria, and Yemen.
That's why it's so important that all stakeholders behave responsibly in order not to ruin this unprecedented historic opportunity. Previous efforts to reconstruct war-torn regions like post-World War II Europe and Asia, as well as the civil war-torn countries of the Global South, were plagued by political calculations which excluded some interested stakeholders. That's not the case whatsoever at all with Nagorno-Karabakh, where the entire world without exception is invited to participate if they have the interest and resources available to do so. As long as Russia can prevent Armenia from spoiling everything, all of humanity will benefit in the long run.
Bütün xəbərlər Facebook səhifəmizdə
loading...