Official Baku: Armenia digs new trenches, accumulates personnel and equipment to launch another military attack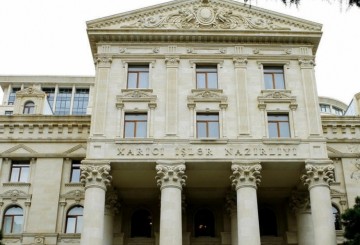 "Armenia's more than 10 thousand-strong armed forces continue to be illegally stationed in the territory of Azerbaijan. More than one hundred tanks and other armored vehicles, more than two hundred heavy artillery pieces, including multiple rocket launchers, dozens of different type of radio-electronic warfare equipment, more than two hundred mortars are currently deployed in the territory of Azerbaijan where the Russian peacekeeping contingent has been temporarily deployed," it was stated at the briefing for the diplomatic corps accredited in the Republic of Azerbaijan on the latest situation in the region, SİA reports.
It was noted that Armenia provides technical, military, logistical and financial support to sustain these forces in violation of its obligations and commitments: "The armed formations in Azerbaijan's territory are financed directly from the state budget of Armenia. Armenia demonstratively violates the Trilateral Statement of 10 November 2020, since its Article 4 clearly stipulates that the Armenian armed forces must withdraw in parallel with the deployment of peacekeeping contingent of the Russian Federation.
The use of radio-electronic warfare equipment illegally deployed in the sovereign territory of Azerbaijan is of particular concern. Not only civilian aircrafts of the Azerbaijani Airlines, but also those of foreign countries have been target to radio-electronic interference for the last several months, including on 13 July, 24 July, 27 July, 21 August, 1 September, posing serious risk and threat for their safety and security of people and air traffic. International Civil Aviation Organization (ICAO) and Russian peacekeeping contingent were informed on such threatening actions.
Past days have witnessed even more intensified military provocations accompanied by increased military build-up, both along the undelimited border between Azerbaijan and Armenia, and in the Garabagh region. Armenia digs new trenches, builds fortifications and accumulates personnel and equipment in an apparent effort to launch another military attack.
Armenia continues to plant new landmines in the territory of Azerbaijan. It should be noted that since August of 2022, a total of 2,728 landmines made in Armenia in 2021 were detected and neutralized, out of which were 1,119 landmines in the Kalbajar and Lachin districts along the border area between Azerbaijan and Armenia, as well as 1,609 in the territory of the Garabagh Economic Region. Both the Russian peacekeeping contingent and Heads of the Turkish-Russian Joint Monitoring Center, as well as the military representatives of foreign countries visited the area where these landmines were demonstrated.
One of the reasons for the establishment of the Lachin border checkpoint was to prevent the mentioned illegal military activities and smuggling.
A "congratulatory message" by the Prime Minister of Armenia on the occasion of the so-called anniversary of the establishment of an illegal puppet structure in the territory of Azerbaijan cannot but provide yet another evidence that Armenia is not sincere in its previous statements on recognition of sovereignty and territorial integrity of Azerbaijan.
On the contrary, with latest statements and actions the Armenian leadership essentially nullified these previous statements.
Armenian diplomatic missions accredited at different international organizations continue to distribute documents on behalf of the illegal regime, again despite Armenia's expressed recognition of the sovereignty and territorial integrity of Azerbaijan.
The sovereignty and territorial integrity of Azerbaijan is as important as that of any other country. And consequently, Azerbaijan is as entitled as any other country in the world to defend its sovereignty and territorial integrity by all means safeguarded under international law.
At this critical juncture, making Armenia to reverse its dangerous path is more important and required than ever.
Armenia and the junta it continues to maintain in the sovereign territories of Azerbaijan through all possible ideological, political, military, financial and other means, must face a unified and clear stance by international community that relying on old tactic of wining time has no chance to yield an outcome they desire."
Bütün xəbərlər Facebook səhifəmizdə