Spring/ Summer 2020 Swimwear Trends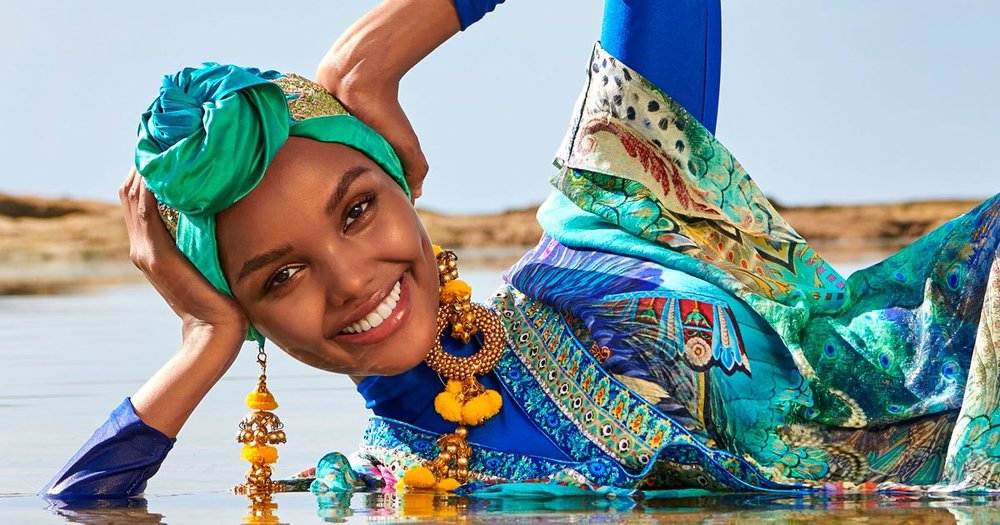 The 2020 swimwear trends fall into a few categories, including trendy colors and prints, cuts, embellishments, and even materials. There is something in there for everybody, with bright colors and unique designs for those who like to stand out and darker solids in more traditional cuts for those who like to quietly relax by the beach or pool without drawing attention, according to Glowsly.
1. The Comeback of Animal Print
Animal prints have been going strong in all categories for a few seasons now, so we weren't surprised at all to see them as part of the summer 2020 swimwear trends. We saw all manner of animal prints used, including snakeskin and zebra, but of course the most ubiquitous were leopard and tiger prints.
2. Flirty Florals
Cheerful florals are a natural print for swimwear, since they beautifully illustrate the joy of summer, and provide a very natural way of showcasing color. We saw lots of different kinds of floral prints, making this one of the more diverse summer 2020 swimwear trends.
3. Black Bikinis
A solid-colored bikini is never a bad idea, but we gotta admit that the darkest color that ruled the summer 2020 bikini trends was black. If you are a goth kid at heart, you will love all of the options you will have in the summer months.
4. Orange Is the Other Black
Our third breakout color for the summer 2020 swimsuit trends is bright orange. This cheerful, warm color looks great with nearly every skin tone, and it is just so gosh darn summery.
5. Shiny Metallics
If you like to be the center of attention at all times, and especially on the beach, then look out for the metallic summer 2020 swimsuits. This trend led to shimmery and eye-catching creations that are guaranteed to be blinding in the sun.
6. High Waisted Bottoms
Much like high waisted jeans and shorts, high waisted bottoms are continuing to go strong for the summer 2020 swimsuit trends. These swimsuits are great for adding some coverage, especially around the belly, while still allowing you to show off a lot of sexy leg or cleavage.
7. One-Shoulder Tops
You can't go wrong with one of the one-shoulder summer 2020 swimsuits. They are chic and fashion-forward, and they allow you to show off a bit more skin without necessarily being all that revealing.
8. Front Ties
Front ties are a classic design element for swimwear that we can't help but smile at seeing again for next summer. For the summer 2020 swimwear trends, the front ties were used on all kinds of swimsuits, including both bikinis and one-pieces.
9. Sustainable Swimwear
We're nearing the point where talking about sustainability like it's a trend will no longer be necessary, but for now, as long as the majority of the 2020 swimsuits are not made of upcycled materials, it's worth commending the designers who make the effort and consider the environment when crafting their swimwear collections.
10.Peek-a-Boo One-Piece
What's the only thing sexier than a bikini? A one-piece that shows off nearly as much skin as a bikini. We saw all manner of peek-a-boo 2020 swimsuits, and each one titillated in a slightly different way.
11.Metal O-Rings
Metal rings became a popular detail on summer 2020 swimsuits, adding a bit of shine and glamour while also providing a revealing allure. O-rings were used to bring together various swimsuit parts, usually showing up as a connective detail at the center of the bust or along the sides of swimsuit bottoms.
12.Ruffled Swimsuits
We don't usually associate lush fabrics and voluminous shapes with swimwear, but those are exactly the kind of ruffles we can expect for the summer 2020 swimwear trends. There were also some smaller ruffles, used to embellish all different kinds of swimsuit parts.
13. Every Body Is a Beach Body
The amount of model diversity at Miami Swim Week this year is also worth noting. It's as though casting directors aimed to prove that everyone deserves to go to the beach in a swimsuit that they can feel comfortable and happy in.
Bütün xəbərlər Facebook səhifəmizdə