Azerbaijan, Algeria sign Memorandum of Understanding on oil & gas cooperation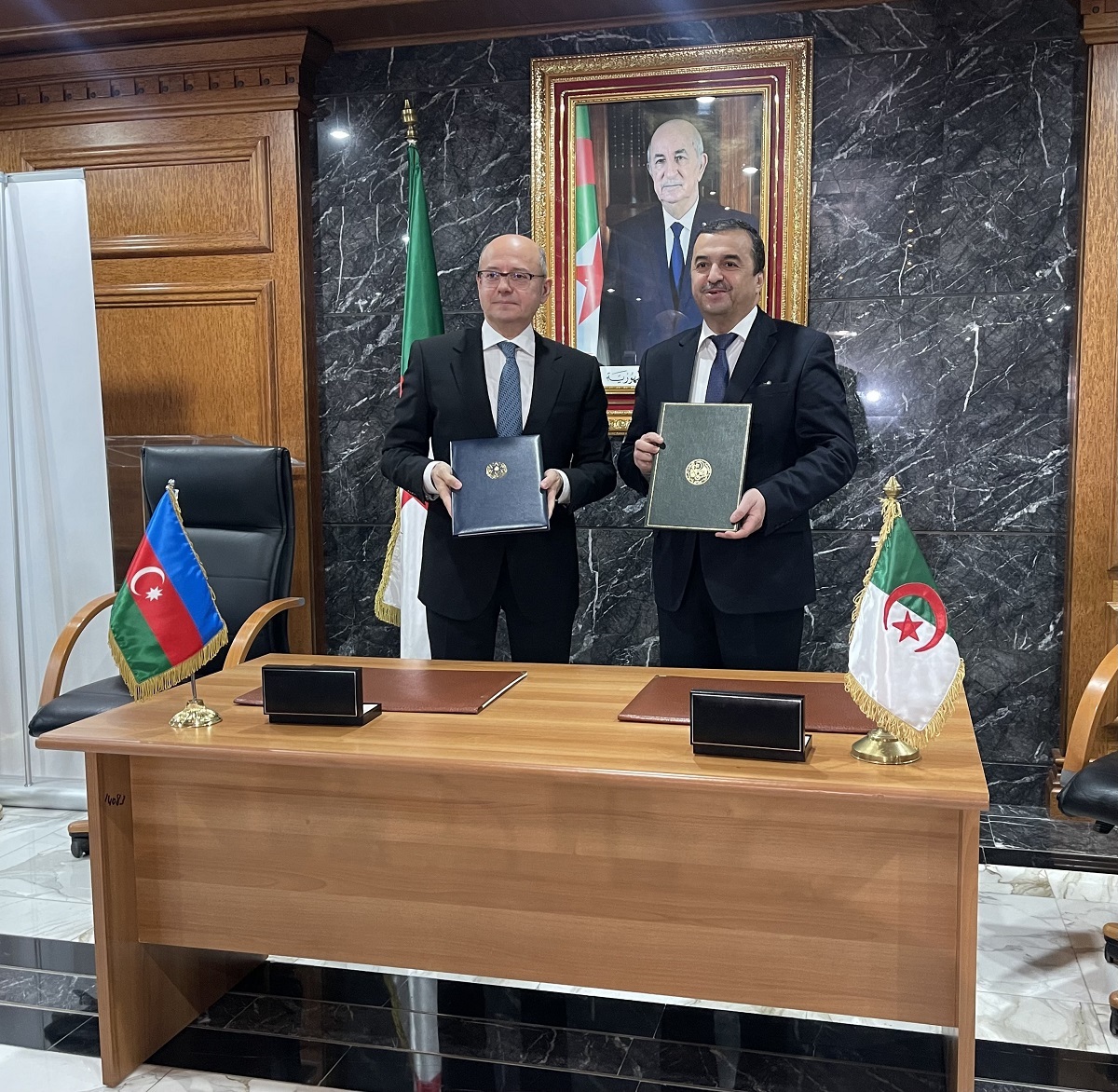 Minister of Energy Parviz Shahbazov met with Minister of Energy and Mining Mohamed Arkab within the framework of his visit to the People's Democratic Republic of Algeria. Cooperation with "Sonatrach" and "Sonelgaz" companies was discussed at the meeting.
The importance of the recent participation of the President of Azerbaijan Mr. Ilham Aliyev in the 31st Summit of the League of Arab States held in Algeria as a guest of honor was emphasized in terms of the development of bilateral relations. The Minister noted that the similarities between the two countries and the historically existing relations in the oil field are a platform for the development of cooperation in the energy field at a new stage.
Energy Minister Parviz Shahbazov said that Azerbaijan and Algeria, which have rich hydrocarbon reserves and are important gas suppliers, have a wide potential in the field of energy to strengthen friendly and cooperative relations. "High-level relations between our countries and rich experience in the field of hydrocarbons make it urgent to expand the scope of energy cooperation and strengthen mutual activity. "
Azerbaijan and Algeria's successful cooperation in the "OPEC plus" format for the purpose of balancing the global oil market was discussed during the meeting as well. The sides exchanged wide views on the activities and planned projects of both countries in oil and gas, as well as renewable energy, energy transition.
Then, in order to develop bilateral cooperation in the field of oil and gas, the "Memorandum of Understanding on cooperation in the field of oil and gas between the Government of the Republic of Azerbaijan and the Government of the People's Democratic Republic of Algeria" was signed.
The memorandum envisages cooperation on the exploration and production of hydrocarbons on land and in the sea, development of hydrocarbon projects, petrochemical industry, marketing, transportation and distribution of energy products. The document also provides for the supply of Azeri Light and other types of crude oil, the implementation of "green energy" (hydrogen) production projects and conducting research on the transportation of hydrogen, the organization and creation of regulatory and management institutions for the oil and gas sector, the implementation of joint projects, and the exchange of experience. includes activities in the directions. It is planned to establish a Joint Working Group for the implementation of issues arising from the Memorandum.
The Azerbaijani delegation includes Yashar Latifov, the vice-president of SOCAR, and Fakhreddin Ismayilov, the director of the "Neftgazelmitadikhiyatlaiyha" Institute.
Bütün xəbərlər Facebook səhifəmizdə