Delegation of Pakistani News Agency visited IEPF office
- PHOTOS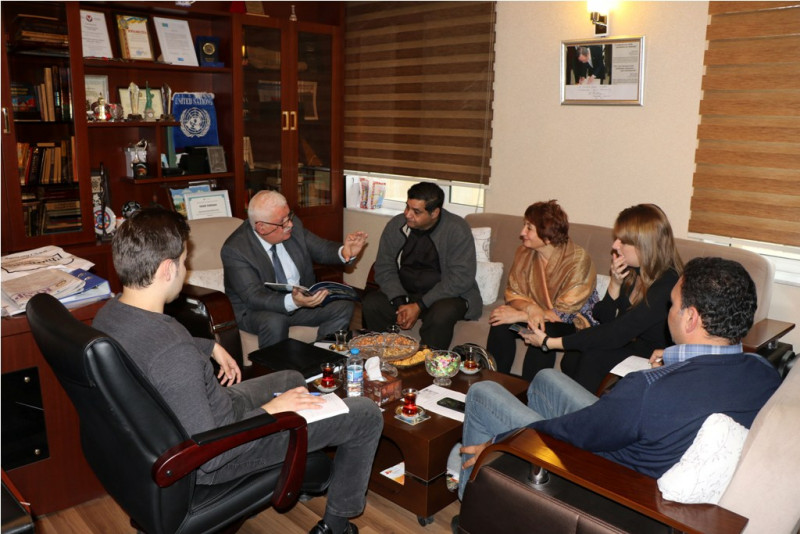 November 13, chief editor of Pakistani news agency Dispatch News Desk (DND) Agha Iqrar Haroon and editor of Russian redaction Oleksandra Seneshin visited International Eurasia Press Fund (IEPF) office.
The meeting was held with the president of IEPF and founder of Eurasia Diary Umud Mirzayev. Eurasia Diary is one of the main initiatives of Eurasia Media Network. The developing relations between Azerbaijan and Pakistan in news field were noted. Both sides show their intentions for mutual collaboration.
DND is an international award-winning news agency and accredited and certified by the Ministry of Information and Broadcasting, Government of Pakistan for distributing news in Russian, English and Urdu languages. This News Agency is also registered with Ministry of Information Broadcasting and Heritage of Government of Pakistan.
Mr. Haroon emphasized the importance of people to people and media to media relations between two states. He mentioned that the main target region of DND is Central and South Asia consisting of 1.5 billion people. In this regard, the partnership with Azerbaijan assumes importance.
Publishing of Azerbaijani news in Pakistani media and at the same time publishing of Pakistani news in Azerbaijan were intended.
IEPF President informed the delegation about the key work directions of the organization. They have taken exchange of views and agreed on some particular issues. At the end of the meeting, the photos were taken.
Bütün xəbərlər Facebook səhifəmizdə
loading...