Uruguay's marijuana growers come out into open
29 Dekabr 2013 12:09 (UTC+04:00)
Juan Andres Palese was using a fake name in public when he opened Uruguay's first store dedicated to cultivating marijuana, where he offered growing equipment and advice but no illegal plants or seeds. Now that President Jose Mujica's plan to create and regulate the world's first national marijuana market has the force of law, Palese's got much bigger plans.
His tiny shop, Urugrow, is already too small to support a rising number of clients, and he'll be moving to a larger, higher-profile locale soon. Once the law's regulations are in place, he hopes to openly sell seeds and cuttings along with all the tools anyone needs to legally grow up to six plants in their own home.
The symbols of marijuana are in full bloom in Uruguay: T-shirts featuring designs of pot leaves are sold on the streets, the radio carries the music of Jamaican singer Bob Marley.
But the people who are so enthusiastically buying potting soil, lights and irrigation equipment to start their own marijuana gardens also could be buying trouble from police if they don't wait to start cultivating the weed until after the state launches its registration and licensing system, the nation's drug czar said Thursday.
"From a strictly formal point of view, you still can't. Until the regulations are in place, there's no way to legally have marijuana plants in your house," Julio Calzada, secretary general of the national drug junta, said in an interview with Uruguay's Radio Universal.
Once registered and licensed, any Uruguayan adult will be allowed to choose one of three options: grow plants at home, or join a pot-growing club, or buy marijuana cigarettes from pharmacies, Calzada said. "If a person isn't registered, he'll have legal problems, and the plants will be seized."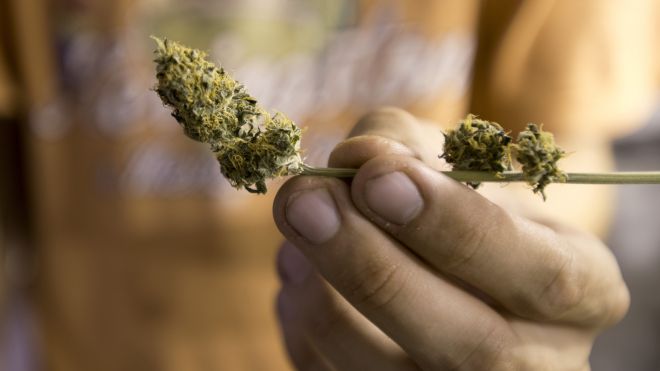 Meanwhile, even as the law's fine print is being written, he said judges now have clearer guidelines for separating marijuana smoking, which has long been legal in Uruguay, from selling the drug, which remains illegal for now.
Palese is content to wait a bit longer to open his larger store.
"The law is a great way to start with this issue. For us it's really useful," he said when The Associated Press visited his store. "We have more customers. There are many people interested in growing their own plants. There are also many opportunists who come to the store because they see a way to make money from this new law."
One young man, irritated that a reporter was there, bought bags of vermiculite, which absorbs excess humidity in the soil of house plants. Then two Spanish tourists came in, much less inhibited, looking for marijuana cigarettes. Palese explained that the law, which aims to avoid "marijuana tourism," won't authorize purchases by foreigners.
In came Augustin, a regular customer who works as a tattoo artist next door and stayed in Palese's store to chat. He's been growing pot in the bathroom of his apartment for two years, he explained. "Until this became law I was a criminal. No longer," he said proudly.
A few blocks away in another downtown Montevideo locale, "Yuyo Brothers" is the store to go to for other marijuana accessories, from rolling papers to pipes. "Yuyo" means weed in Spanish, and some of the store's customers don't want people to know they use marijuana. But owner Enrique Tubino, who has sold marijuana accessories for years, happily keeps his plants in a window at home, visible to anyone who walks by. "No one has ever denounced me," Tubino said.
But not all growers are happy with the new law.
A university employee, speaking with the AP on condition of anonymity to avoid prosecution, said he's grown marijuana for years and never sold it to anyone.
"With the old law, if a judge decided that my plants were for my personal use, I would have been let go. The new law sets the limit at six plants. And since I have more than six, now it doesn't matter if I sell or if it's for me — I'm a criminal."
(Fox News)