Two Southern California after-school programs were honored with one of the most prestigious art awards in the nation Monday at the White House. The organizations were chosen from more than 350 nominations and will receive $10,000.

The TeenSpace Circle of Mentoring at the Santa Ana Public Library was one of 12 after-school programs that won the 2014 National Arts and Humanities Youth Program Award.

The other local honoree was The Gabriella Foundation's everybody dance! after-school program for underserved children in Los Angeles.

Twelve-year-old seventh grader Jovahna Solalindez has been dancing in this program for eight years.

"I found out that I can open myself and express myself in another way than just speaking to someone and telling them how I feel," Solalindez said.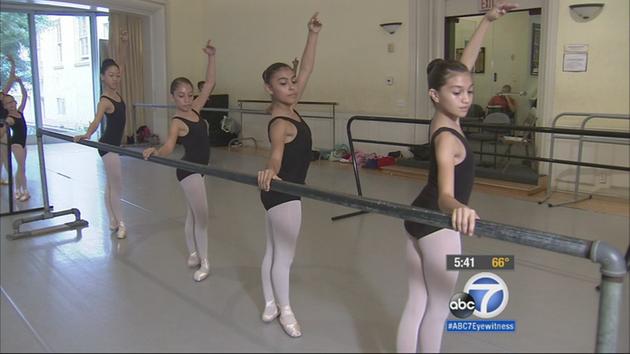 The everybody dance! program was founded from tragedy before it grew to triumph. It was named for founder Liza Bercovici's daughter, Gabriella, who was killed while bicycling at age 13.

"When you lose a child, it's the worst thing that can happen to you," Bercovici said.

She was overcome by grief but found strength in starting everybody dance! to forever remember the child who loved to dance.

"I wanted to do something to nurture her memory because that was all I had left of her and I didn't want anyone to forget that she had lived," Bercovici said.

The program started in 1999 and now runs more than 200 classes for 2,000 students at six inner city locations. The goal is not to train professional dancers, the goal is applying the discipline of dance to life.

"On average, it probably takes 10 years to make a dancer so kids learn perseverance, resilience, flexibility -- all of these qualities that can serve them in other aspects of their lives," artist director Carole Zee said.

In 2005, Bercovici started Gabriella Charter School, a K-8 school requiring that every student take dance, and they do willingly now.

Gabriella Charter School has since been academically ranked California's number two charter school. But while the charter school gets public funding, everybody dance! must raise money through gifts and grants, which makes getting a national arts award so meaningful.

"It means that we're doing the right thing," Bercovici said. "It means that what we're doing makes sense. It means that we're doing is resonating. It means that what we're doing is really helping to transform children's lives.

Bercovici dreams of expanding the Gabriella Dance Program citywide in memory of the young girl who inspired it.