Presentation on "Global Monitoring System" and service "585" - portability of landline numbers took place in Aztelecom Production Association (PA) of the Ministry of Communications and High Technologies (MCHT).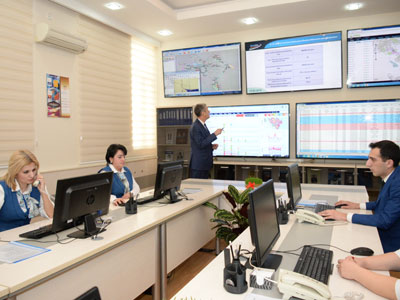 Director General of Aztelecom PA Mohammed Mammadov informed about innovations and future plans at the event, which was held with the participation of Minister of Communications and Information Technologies Ali Abbasov. Following this, presentations were made.
It was noted that being a prompt response monitoring system "Global Monitoring System" includes call center and registration system; information and telemarketing desk; network monitoring; 3-tier technical support; analysis desk; subsystems, such as the local technical support. At the same time, registration of applications received by the system and technological map for elimination of special algorithm accidents has been developed in order to systematize the elimination of accidents occurred. The system also enables for carrying out analysis of traffic flow in different directions.
The data received is sorted out according to the type of services and displayed on the desktops of working computers of relevant departments of telephone exchanges and Aztelecom PA, and is sent to mobile phone via SMS. The system features the creation of electronic card index. All data is automatically transmitted to the electronic card index. The system provides service not only to Aztelecom PA customers, but also to the subscribers of private providers. 35% of customers of private providers have been connected to the system. With regard to the service "585" portability of landline numbers, this novelty serves for delivery and distribution of Baku phone numbers to regions by using empty prefixes in the numbering system of the capital's telephone network.
According to proposals set out in the presentation, it is considered appropriate to construct a new station with a capacity of 10,000 numbers which will make it possible to organize the delivery of Baku numbers to the territories of regional telephone exchanges through IP protocol. The station will be installed on NGN / IMS technology.
After the presentation, Minister Ali Abbasov gave relevant instructions and recommendations in connection with the continuation of examination on application of new communications services, further enhancing the quality of services provided, as well as the expansion of activities carried out to provide access to the Internet in the country, including in remote villages.