Director of Press Operations of Baku European Games Operations Committee (BEGOC) Jayne Pearce was interviewed by AZERTAC, SIA informs.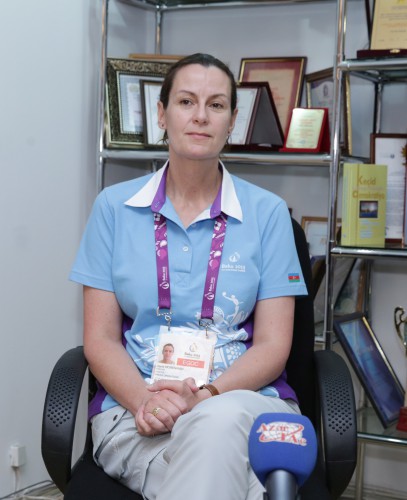 How Baku 2015 media issues are organized? What could you say about innovations implemented during these Games?
I think this event is approaching a number of things in a different way and in an innovative way, from transport to the way we present the athletes to my own area of press operations. We are having an I-zone, for example. It is a new way of presenting the athletes to the media. So I think there are many new things that are happening for celebration of sport and, hopefully, those things will be a legacy for the future.
Do you have any special recommendations for the journalists that will be covering the Games?
I would say: please understand how much is available to you - we have dedicated work areas, we have special information on the website, on the media button. We have international and Azerbaijani staff willing to help you and we have press attachés from all of the teams willing to help the media. So just really make sure you have everything available to help you, and inform yourself before you come to cover the game.
Given that the European Games will be held for the first time in Azerbaijan, the country will set certain standards for the future European Games. What will these standards be?
We're only at the eve of the games really, and I think looking at the venues, the venues are fantastic. The way the city has prepared is really a very high standard. The village, both media village and the athletes village, we are just starting to get the first arrivals now. It's wonderful to see that such buildings are coming to life. So I think it's set a very high standard in every operational area. At the eve of the Games we are very excited, and I think a very high standard will be set for the future European Games.
You have been in Azerbaijan for a long time. What can you say about sports in the country?
I have been coming to Azerbaijan, to Baku, working on the project for two years. I appreciate the sports that Azerbaijanis like. We are expecting big interest in wrestling, judo, taekwondo, sambo, boxing - that's the sort of sports that you like. But we have also seen an appreciation of some of the new sports as well. I think the torch has been a very fantastic success, and people really start to appreciate that something big is about to happen here in Baku, and they are getting very excited.