More than 1,000 new trees were planted by the Baku 2015 European Games Operations Committee and the Azerbaijan Ministry of Ecology and Natural Resources today, as part of sustainability initiatives that will leave a lasting legacy for the country and city.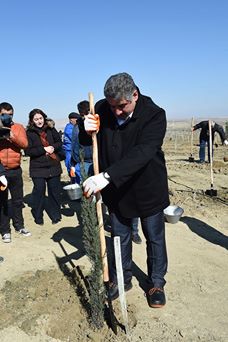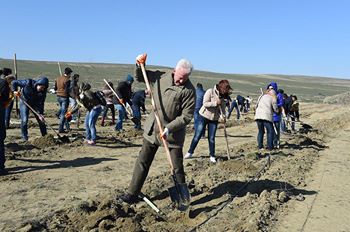 More than 300 Azerbaijani and international BEGOC employees and Flamekeepers volunteered to travel to the Mushuigabad district, west of Baku, to plant 1,000 pomegranate, oak, elm and pine trees that will grow together to become a new forest. They were joined by the Azerbaijan Minister of Youth and Sports and Chief Executive Officer of Baku 2015, Azad Rahimov, and the Vice-President of the Olympic Committee of the Russian Federation, Igor Levitin, who planted a number of the trees.
Mr Rahimov said: "The Baku 2015 European Games will be a defining moment in Azerbaijan's history, and will have a great impact on the country and its people. We often highlight the human and infrastructure benefits that the European Games will bring Azerbaijan, and today we can demonstrate that they will also leave a green and sustainable legacy for Baku."
Mr Elchin Safarov, Corporate Director at Baku 2015, said: "Planting trees is an Azerbaijani tradition ahead of the Novruz celebrations. It is our way of celebrating the arrival of the year ahead, as well as the birth of new life: those of the trees that will be here for generations to come".