The Judo world is mourning the death of the Dutch Olympic champion Willem Ruska, who died at the age of 64.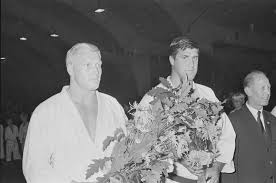 Mr. Ruska etched his name in Olympic Games history at Munich 1972 when he became the only judoka to win two gold medals at one Olympic Games. The Amsterdam native captured gold in the +93kg and Open weight classes.
"With the death of Willem Ruska the Judo world loses one of its greatest icons," said Mr. Willem Jan Stegeman, President of the Dutch Judo Federation.
"He has made an unlikely major contribution to Judo and the status of the Netherlands as a judo nation. Our thoughts go out to his family."
Mr. Ruska won world championship gold medals at +93kg in 1967 in Salt Lake City and 1971 in Ludwigshafen as well as silver in the Open competitions in 1969 in Mexico. He was also a seven-time European champion.
"After his two gold medals at the Olympics and two world titles he sat as a coach for many years successfully engaged in judo," said the Dutch Sports Minister Edith Schippers.
"He was an example and inspiration for many judokas. The Netherlands lose a great sportsman and a true judo hero."
Mr. Ruska was inducted into the International Judo Federation Hall of Fame in 2013.
He coached after he stopped competing but suffered a brain haemorrhage in 2001, leaving him partially paralyzed and with speech problems.