The FBI is facing questions over its role in a 2011 hacking attack on the Sun newspaper in the UK after the publication of chat logs showed that a man acting as an agency informant played a substantial role in the operation.
In July 2011, a group of hackers known as Lulzsec – an offshoot of Anonymous – posted a fake story about the death of Rupert Murdoch, penetrated several News International (now News UK) corporate sites, and claimed to have obtained gigabytes of material from the company's servers.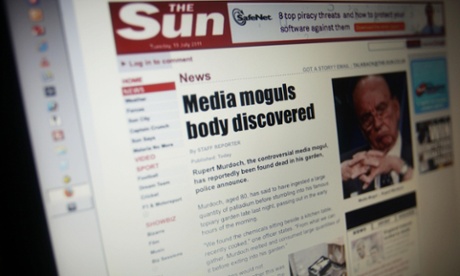 The attack was so successful that the publisher took down the websites of the Sun and the Times while technicians worked out the scale of the hack.
Unsealed documents obtained by Motherboard, the technology channel operated by VICE, and seen by the Guardian, show Hector Xavier Monsegur – known widely online as "Sabu" and frequently referred to as the leader of Lulzsec – played an active role in the operation.
The chat records show Monsegur encouraging others to break further into News International systems, claiming to have sources at the Sun, and even apparently helping to break staff's passwords and to source files for stealing.
Monsegur was, however, at that time operating under the direction of the FBI, who had arrested him weeks earlier and cut a deal that kept him free if he helped to track down and secure the convictions of others in the group.
The close involvement of an FBI asset working under extraordinarily close supervision in a hacking attack on a media outlet ultimately owned by a US-listed company is set to raise further questions about the agency's approach to tackling online crime.