The Heydar Aliyev Center has today hosted an event dedicated to the presentation of "National Geographic Azerbaijan magazine".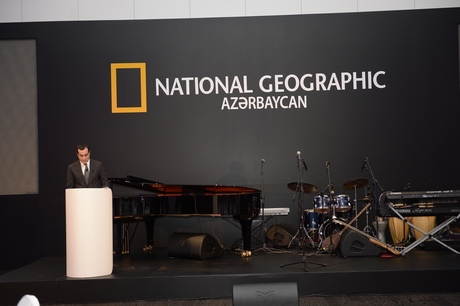 "National Geographic Azerbaijan" debuts with the September 2014 issue, which leads with a feature on "Colors of Azerbaijan". Issued with the support of Vice President of the Heydar Aliyev Foundation, founder and head of the IDEA Public Union Leyla Aliyeva, the "National Geographic Azerbaijan" will serve to protection of environment and enlightenment in this field.
"Environmental problems unite everyone, regardless of nationality, language, religion and race for the common goal – protection of nature.
By highlighting natural calamities, global warming, atmosphere pollution, risk of extermination of different fauna species and other environmental problems, the National Geographic Magazine contributes to protection of the environment and our plant.
Today Azerbaijan is a regional leader for its environmental initiatives.
I believe that the National Geographic Magazine, which started to be published in Azerbaijani, will make a huge contribution to environmental awareness in our country," Leyla Aliyeva said in her message.
National Geographic Azerbaijan magazine was published as part of the joint project of Garant Holding and US National Geographic Society.
Chairman of the Directors' Board of Garant Holding Anar Mammadov stressed the role of the vice president of the Heydar Aliyev Foundation Leyla Aliyeva in publishing the magazine in Azerbaijani. According to him, the magazine which enjoys a great popularity in the world, will gather a broad audience in Azerbaijan.