8 JANUARY 2015
Stephen Fry has shared a second photo from his wedding to Elliott Spencer, which shows the pair marrying in the "presence" of Oscar Wilde. The TV presenter and his writer husband tied the knot in secret on Saturday afternoon, much to the surprise of their fans and fellow celebrities.

Stephen had posted a Twitter snap of himself and Elliott signing the registry, and a few hours later he revealed another important detail from the ceremony.

"Oh and @ElliottGSpencer and I had our vows witnessed by a mini Oscar Wilde. Because one should. ğreencarnations," wrote Stephen alongside the follow-up image.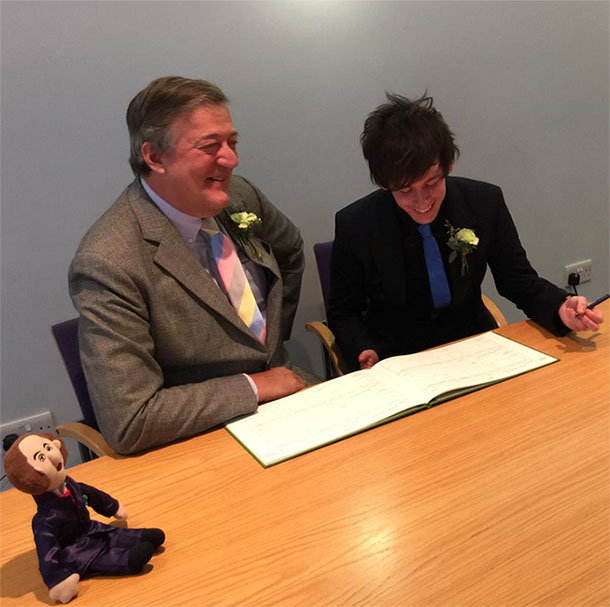 In the photo, Stephen, 57, and Elliott, 27, were captured mid-laugh as a mini Oscar Wilde doll sat next to them.

The couple wore green carnations on their lapels, in a nod to the late author, as Victorian men would often wear the flowers made popular by Oscar.
Stephen himself portrayed the Irish poet in the 1997 film Wilde.

Shortly after announcing their wedding news on Twitter, Stephen and Elliott were flooded with congratulatory messages from both their famous friends and thousands of followers.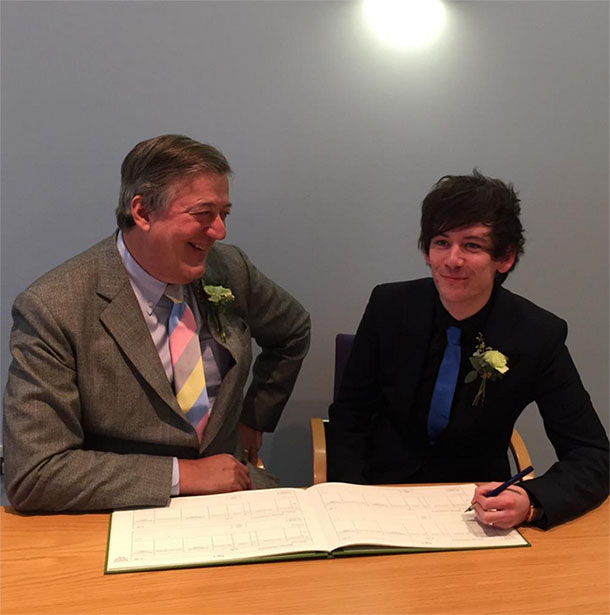 "It's happened! @ElliottGSpencer has made an honest man of m'col. Love and happiness to all!!" wrote comedian and Stephen's long-time collaborator Hugh Laurie, in a post that was retweeted by each newlywed.

"@stephenfry @ElliottGSpencer Gor. Geous. Xxx," commented Derren Brown, while Sherlock star Mark Gatiss wrote: "@stephenfry @ElliottGSpencer Wonderful! Congratulations to you both.xx."

"Congratulations on your joyous union @stephenfry @ElliottGSpencer," added Nigella Lawson, while Russell Crowe echoed: "@stephenfry @ElliottGSpencer congratulations gentle men. So happy for you both."
The wedding comes just two weeks after Stephen revealed his engagement on the same social media site.

"Oh. It looks as though a certain cat is out of a certain bag. I'm very very happy of course but had hoped for a private wedding. Fat chance!" he tweeted to his 8.48million followers, before adding: "Thank you all SO much for your kind congratulations. Deeply touched xxx."

The couple married at a registry office in Dereham, Norfolk – close to where Stephen grew up – less than a month after they gave a formal notice stating their wish to marry there.