A special edition was published on the G20 Summit held with the participation of heads of state and government of member states in the Turkish city of Antalya on November15-16. The article titled "Forming a common strategy" by President Ilham Aliyev, who also attended the summit, was published on the special edition. The article has been posted on the official website of the G20.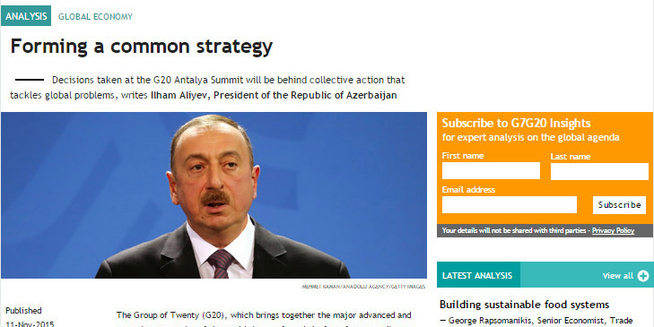 The section of the article, which is called "A diversified economy" says that Azerbaijan plays an active role in establishing transnational communication lines and transport/transit corridors with modern infrastructure within the region and beyond. Today, Azerbaijan has already become the region's transport and logistics centre.
"Thanks to its effective economic policy, Azerbaijan's gross domestic product (GDP) has grown 3.4 times; the volume of the non-oil sector and industrial production has tripled, and the share of the non-oil sector of the economy has increased exponentially in the past 12 years, reaching 68.4% based on the first eight months of 2015.This is clear evidence that the country's economy is diversified and that its dependence on the oil sector has dropped dramatically. Since 2003, Azerbaijan's economy has attracted some $200 billion of investments, with a substantial share from foreign investments. The economy's traditional sectors saw an overhaul, and new areas such as tourism, space and defence industries, information/communication technologies and others were established. Azerbaijan has joined the ranks of the space states by launching its own two satellites."
The section of the article, which is called "Addressing critical issues" says that a great deal of work has been carried out to further improve the business climate, to advocate rights and the interests of investors, and to create best practice conditions for local and foreign entrepreneurs. As a result, the share of the private sector in the national economy surged by 82%.
"Any reform implemented in Azerbaijan is led in accordance with development trends in the world economy, while being based on concrete national programmes and the application of modern technologies. Our country both absorbs innovations existing in the world, and acts as an initiator of the latest ones in various sectors. In this context, we can particularly underline Azerbaijan's brand: the State Agency for Services and Social Innovations to the Citizens under the President – the ASAN Service centres and all its affiliates. The ASAN Service is a modern model of public relations. It embodies a new approach to the relationship between the state and its citizens, and has a very positive effect on eliminating red tape and possible corruption. The ASAN Service practice is closely studied by other countries, and its experience is widely spread," the article says.