Shocking facts about "Reporters without borders" NGO and Robert Menard, who has founded this organization.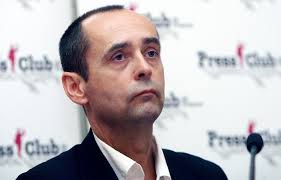 Before his post of mayor of the town of Béziers in the south of France, Robert Ménard was famous as founder and chairman of "Reporters without borders".

French journalist Nicolas Poincare named him (Robert Ménard) "a saboteur without borders" : "Ex chairman of Reporters without borders NGO is busy with diversion; Penalizes people who hanged cloth on their balcony, rejects multicultural France".
Robert Ménard is also famous in Azerbaijan for his "activity". Till 2006 he was visiting Azerbaijan frequently. After that time his visits has stopped. And his intentional dirty activity against Azerbaijan has started out. In every year's reports of this organization, Azerbaijan's name has always been given delibaretly on the end of the list.
Robert Menard's approach to Azerbaijan is not random. A reason of this attitude comes from religious discrimination,so Azerbaijan is a muslim country. The organization olny issues statements according to their goals. They do not accept and listen to opposition side's response on the issue.

Robert Menard a French mayor backed by the far-right Front National has been accused of racism after using the names of schoolchildren in his town to decide how many were Muslim. However, under France's strict secularism laws, the government does not keep statistics on people's religion or ethnicity.
But Robert Ménard, mayor of Béziers in the south of the country, said his administration had used lists of pupils' names to decide how many were Muslim, and claimed the figure came to 64.6%. Although, persons violating this law can be arrested for 5 years and fined 300 thousand euro.
Eventhough, criminal case had been raised but no measures has been taken. But public censure was deepened. As chauvinist approach of Menard can not be hidden. Menard's clear support for chauvinist, radical National Front (France) demonstrates his "unborder"activity.
When scandal raised Robert Menard held a press conference to unbend situation. But controwise, scandal hot up. "There is no need for statistics. If child's name is Muhammad, it means the child is from South African immigrant family. Ethnicity and religion statistics need at work. There is such situation in our city that those people closed their Muslim religion and they have not integrated to society. Those muslims do not know French fluently and they speak in their own Arabic, Turkish language. As well children from these families carry on speaking in their own language even in school. Number of muslims are too much in the country. If you visit our city's prison you can see that majority of the prisoners are arabs and Turks".

After this Manuel Valls, French Prime Minister "A mayor of Béziers should be ashamed himself" wrote on his Twitter page.
"Its contrary of Republic of France's values" President of France Fransua Olland commented on Menard's statement on French muslims.

"Census of Muslim children is assault for Republic of France" A speaker of French Parliament stressed.
"Robert Menard reminds nasists." told French Minister of the Interior Bernard Cazeneuve.

Its fact, Robert Menard has stolen a name "Doctors without borders" and founded "Reporters without borders" and implements the US policy. The state Department of US orders some instructions to Menard and he claims that journalists of this country (which targeted by State Department) are under pressure, "their free voices are being suppressed in that country, there is not freedom of speech".
All these facts proves one more that Robert Menard acts dishonestly and does not play fairly on reports prepared by "Reporters without borders" .

Nowadays, after public reproach Robert Menard is being calm.