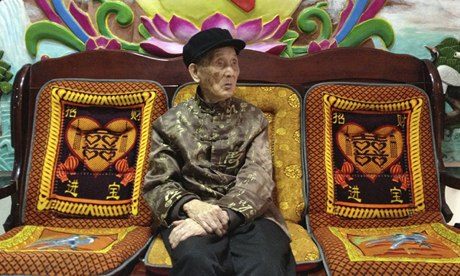 Her T-shirted charges trailing behind her, the young guide swept into Huang Puxin's home and flicked her tour flag towards the centenarian, who was waiting on the sofa beneath a giant bas-relief inscribed with the word "longevity". "The old man is 113," she mumbled into her headset, turning away.
The tourists stuffed cash into piled-up red envelopes and moved in beside Huang, patting his knee as they handed him the money and posed for a picture.
Huang has lived through wars, famines, the rise and fall of Maoism and much more. But his life's latest turn may be its unlikeliest: reinvention as a tourist attraction. Bama county, in southern Guangxi, used to be one of China's poorest places. Now, thanks to residents such as Huang, it is a travel hotspot.
Famed for centuries for its residents' unusual longevity, it now has 81 centenarians. Proportional to population, that is roughly five times China's average.
A decade ago the best-known settlement in the county rebranded itself as Longevity Village, and in the past few years coverage and word of mouth have prompted a surge in visits. More than 640,000 people came in the first five months of 2013, boosting the economy by 406m yuan (£41m), say officials.
An estimated 20,000 health tourists – many times the number of native residents – live in the surrounding district, staying for months at a time. Thousands more arrive on coach trips, to receive the benediction of the oldest residents.