XVIII Eurasian Economic Summit has started in Istanbul. Chairing the opening session of the summit organized by the Marmara Group Strategic and Social Research Foundation, Minister of Communications and High Technologies Ali Abbasov said the Marmara Group Foundation have great services to the economic development of the Eurasian region.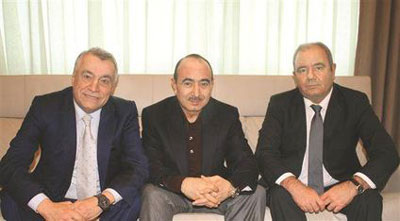 "The support to the Eurasian Economic Summit from the governments of Turkey and Azerbaijan causes great satisfaction."

At the opening of the summit Ali Hasanov, Assistant to the President of Azerbaijan read out the message of President Ilham Aliyev. The message says that summits contribute to the development of relations between the peoples and states of the Eurasian space, mentions the leading role of Azerbaijan in the economic processes taking place in the region. In the message the Head of State noted the practical work in the implementation of transnational projects and underlined the importance of the construction of TANAP and TAP projects in this process, as well as Baku-Tbilisi-Kars railway, construction of which is scheduled to be completed by the end of this year. Ilham Aliyev expressed confidence in the success of hosting the European Olympic Games in June this year, and IV Islamic Solidarity Games in two years.

Speaking at the opening session of the summit, Chairman of the Marmara Group Foundation Akkan Suver rendered special thanks to Azerbaijan for its support to the summit. He stressed the special role of Azerbaijan in strengthening economic relations between Eurasian countries: Baku-Tbilisi-Kars railway project and the Marmara project will be real steps in the realization of the dreams of my generation in the revitalization of the historic Silk Road," said chairman of the Foundation.

Akkan Suver expressed gratitude to the Minister of Communications and High Technologies of Azerbaijan Ali Abbasov for supporting the issuance of a commemorative postage stamp to mark the 30th anniversary of the Marmara Group Foundation.

XVIII Eurasian Economic Summit was attended by presidents of Montenegro, Bosnia and Herzegovina, Macedonia, Gagauz Autonomous Region of Moldova, as well as former presidents of Bulgaria, Moldova and Romania.

The two-day summit was also attended by the heads of states and governments, government officials, diplomats, MPs, former heads of state and government from 50 countries.

During the summit, discussions were held in different sections on the topics "The Silk Road: economy, energy and finance", "The Road to Peace", "Where is going the mankind?"

It will be recalled that a number of issues such as the importance of the projects TANAP, TAP and Shah Deniz 2, including regional and global energy and communication projects on the Silk Road, sustainable development, as well as the role of information technologies in the economic development were discussed within the framework of XVII Eurasian Economic Summit held in Istanbul in February 2014.