A ceremony has been held in Baku to launch "Target Baku. Hitler's war on Oil" documentary shot with the support of the Heydar Aliyev Foundation. Azerbaijan`s first lady, president of the Heydar Aliyev Foundation Mehriban Aliyeva and Arzu Aliyeva attended the ceremony. Dedicated to the 70th anniversary of the Victory over Nazism, the documentary was produced by Arzu Aliyeva, Chief Producer and Louis Vaudeville, producer, and directed by Robert Mugnerot. Prior to the screening Arzu Aliyeva addressed the ceremony. She highlighted Azerbaijan`s contribution to the Victory over Nazism. "Azerbaijan accounted for more than 70% of the total oil production and more than 80% of the total fuel production in the Soviet Union in 1941-1945."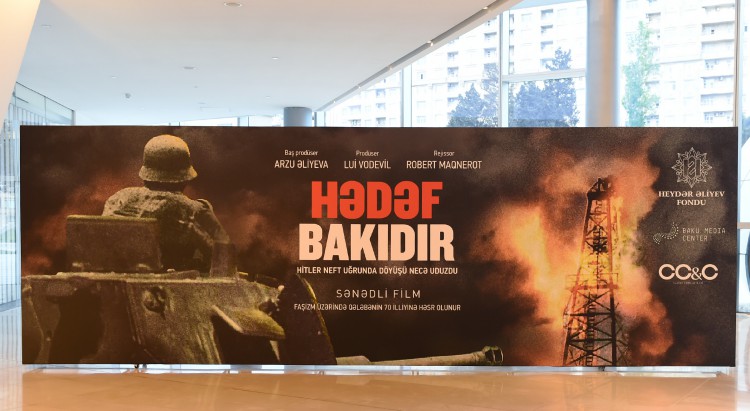 Louis Vaudeville highlight the shootings of the film. He thanked president of the Heydar Aliyev Foundation Mehriban Aliyeva for her support.

The plot of the documentary reveals the role of the Azerbaijani people in defeating Nazism and the strategic importance of the Azerbaijani oil during the war.

In the course of the Great Patriotic War (1941-1945), 700 thousand men were drafted in Azerbaijan, 400 thousand out of them never made it back home. Meanwhile, Azerbaijan's input to the war efforts was not only restricted to human resources. The role of the Azerbaijani oil in the Victory shall not be overseen. E.g. 72 per cent of the Soviet crude was produced in Baku. This implies that 7 out of 10 tanks or war planes were fuelled by Baku's 'black gold'.

The documentary is the joint product by the Baku Media Center and the Clarke Costelle & Co. production company recognized for its documentaries.

Another documentary produced by Clarke Costelle & Co., Apocalypse: The Second World War, aired in 171 countries gathered the total audience exceeding 1 billion viewers.

Target Baku took 14 months of substantial research in Azerbaijan, Germany, the US, the UK, France and Russia, with over 200 hours of video materials, photographs and other documents scrutinized.

The film provides a totally new approach to the history of World War II, i.e. through the prism of oil. The documentary also features some unique video snapshots of the WW2 battles never shown to this day in a totally new format of restored color film.

Along with the Azerbaijani version, the Russian, English, French, German and Italian versions of the documentary are available.

After the presentation at the Heydar Aliyev Center, the film is to be broadcast at the National Geographic channel in 26 countries on May 8, 9 and 10.