The 5th Mugham TV Contest being held on the basis of a project by the Azerbaijan Culture Foundation, with the support of the Heydar Aliyev Foundation, organizational support from the Azerbaijani Television and with participation of the Ministry of Culture and Tourism started at the International Mugham Centre, February 16.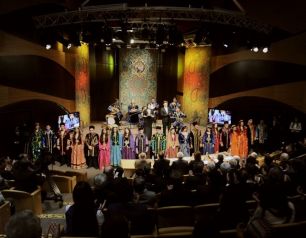 As of today, performances of contestants will be broadcast on Mondays and Fridays on the Azerbaijani Television and Culture channels. As a tradition, 20 contestants will participate in this year's contest too.
The jury that will assess performances of the young contestants includes people's artists Alibaba Mammadov, Arif Babayev, Sakina Ismayilova, Mansum Ibrahimov, Ramiz Gouliyev, honoured persons of art Sardar Farajov and Nadir Akhundov.
On the first day of the contest, popular songs performed by Novruz Huseynov, Sariyya Primova, Miryusif Mirizadeh, Ulviyya Mammadzadeh, Shahmar Hajiyev, Nisbat Sardayeva, Turkay Malikova, Misir Mammadov, Sadaf Budagova and Mashallah Mirzaliyev were listened and assessed by the jury.
Other 10 contestants will perform on Friday. On the same day, scores given by the jury will be summed up, and a contestant with the least amount of score will have to quit the contest.