On the occasion of 85th jubilee of People's Artist of Azerbaijan Alibaba Mammadov Azerbaijan's First Lady, President of the Heydar Aliyev Foundation, Azerbaijan's First Lady Mehriban Aliyeva met him, SIA reports.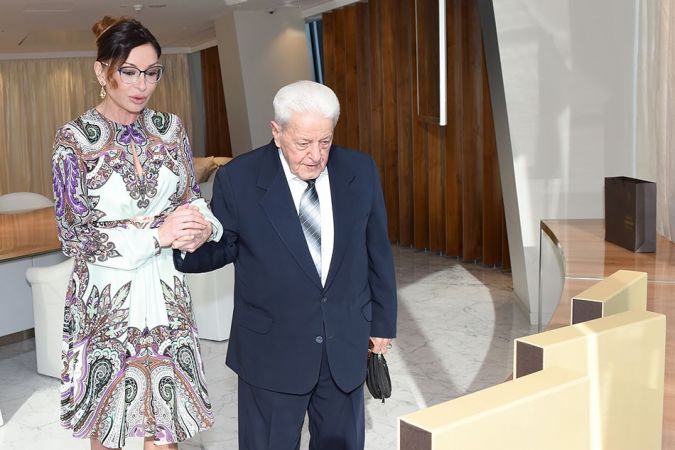 Following Mehriban Aliyeva's initiative, a new album devoted to the life and creativity of Alibaba Mammadov - an eminent representative of our national music, people's artist, skilful performer of mugham, tasnifs and popular songs - was published on the occasion of the khanendeh's 85th jubilee. The collection talks about the maestro's childhood and youth years, as well as the path of creativity full of rich and unforgettable events.
First Lady of Azerbaijan noted that the album included a book talking about the life and creativity of Alibaba Mammadov - who very well knows the niceties of music and samples of Azerbaijani classical poetry, and has enriched Azerbaijani national music treasury with his unique style of performance - two publications with notes of his own songs and tasnifs, and 4 CDs with popular songs, tasnifs and mughams performed by the khanendeh.
"Alibaba Mammadov has greatly contributed to preserving and developing the traditions of the national profession of singing. " highlighted Mehriban Aliyeva.
Alibaba Mammadov thanked the First Lady for the care and attention shown towards him, and said great works have been done recently under Mehriban Aliyeva's direct patronage towards preserving, developing and promoting the Azerbaijani mugham art.